ANOTHER BIG DAY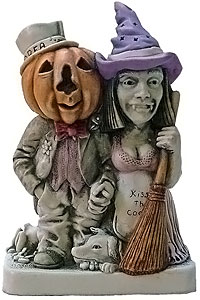 To encourage early registration for PASSPORT TO THE KINGDOM a special Early Bird figurine was available. If you registered by March 16, 2009, you received the Early Bird figurine, Another Big Day, at no cost. A minimum $100 deposit must have been made by March 16, 2009, with the balance paid by June 1, 2009.

SAFE JOURNEY
As an attendee of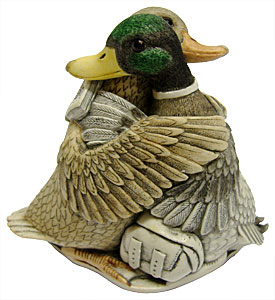 PASSPORT TO THE KINGDOM, you received the delightful box figurine, Safe Journey, carved by Master Carver Peter Calvesbert. Peter told HOP that he wanted to do something special this year for the convention, so we collaborated with him to come up with this year's Version 1 and Version 2 pieces.
Our "Version 1" event figurine is Safe Journey, a box beautifully depicting a male Mallard duck embracing his partner as he prepares to depart on a journey. He is complete with his suitcase and passport. Peter has created a true rendition of the male and female Mallard in both carving and coloring.
This piece was included in your registration package. This year attendees were allowed to purchase a second Safe Journey, if desired. Ordering deadline was August 31, 2009.

ACROSS THE POND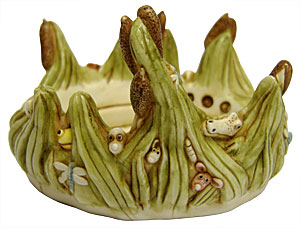 Our "Version 2" figurine, Across The Pond, is designed to be used as a base for Safe Journey, or it can be used alone. It is a perfect companion to the event figurine that Collectors received as part of their registration. Peter carved the reeds filled with various creatures that may be found in or around the pond where the mallards might live. The interior is a reminder of where the event is being hosted, with a caricature of Pete as a "Rhode Island Red" chicken.
Across The Pond is not a box as there is no lid. You could even use your Across The Pond figurine for holding paper clips or for storing your loose change. Every attendee (Collector or Associate) had the right to purchase up to two Across The Pond figurines. When Safe Journey is placed into Across The Pond, you will have a very special display never before seen in "Harmony Kingdom" land. Ordering deadline was August 31, 2009.

PATRIOT PETE

Step back in time and picture the colonial period of American history. Wigs were in fashion and Peter certainly doesn't want to be left out. Peter and Andrea Calvesbert are coming to Newport. To help raise money for Andrea's trip, Peter produced this colonial period version of himself. HOP is assisting Peter by selling this fabulous addition to our event for him.

Every attendee—whether a Collector or an Associate—could have ordered up to two Patriot Pete pendants. The cost was $25 each. You needed to pay in advance and you received your piece(s) when you checked in at the convention. Ordering deadline was August 31, 2009.

As a Thank You to us for helping support his family trip, Peter gave special "red coat" color versions of the pendant to 10 lucky purchasers. The drawings were held Sunday morning.
DAME ANDREA

Step back in time one more time, for Andrea! Peter Calvesbert carved another pendant, this time featuring his wife during the colonial period of American history.

This time this pendant was a gift following the Breakfast Buffet on Sunday. With a completed survey about your event experience, you received this Dame Andrea pendant. We hope that you enjoyed your time in Newport and we will appreciate all feedback on your experience. We aim to make our next event even better!

Ordering an additional Dame Andrea pendant online ended August 31, 2009.
MR. LOBSTAA

On Thursday evening there was an Optional Outing—a Ghost Walk through Newport. Each person who signed up for the tour received the special red (cooked) lobster pendant, Ready To Eat.

A brown (fresh) lobster pendant, Mr. Lobstaa, was available from Atlantic Kingdom Addicts for $25. In true HK humor, these delightful lobster pendants depict a lobster sporting its bib, ready to dine on its favorite food—a picture of Pete. These images are of Mr. Lobstaa.

Ordering deadline was August 31, 2009.

SAINT OR SINNER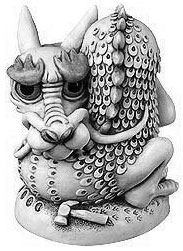 For the Paint-Your-Own this year, attendees did their best at painting an unpainted version of Saint or Sinner. Usually the Paint-Your-Own version is like the original version in staining, but just without the addition of the hand-painting that is added after the staining. This year we asked for a change. The Paint-Your-Own version of Saint or Sinner was stained BLACK instead of brown. This certainly added to the variations display in your cabinet. The image here is a grayscale version of the regular piece. The actual Paint-Your-Own piece will vary slightly from this image.
All attendees got one Paint-Your-Own figurine with their registration (even associates). If you wish to paint the one you receive, but also want an additional unpainted version, you can still order an extra piece. Ordering deadline was August 31, 2009.
Two painters won an event prototype for the "best" Paint-Your-Own. One winner was be selected by Peter Calvesbert and Lisa Yashon. The attendees voting at the Halloween Party selected the second winner.

ADDITIONAL IMAGES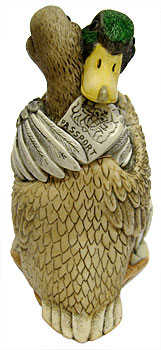 Safe Journey
| | |
| --- | --- |
| Across The Pond | Across The Pond |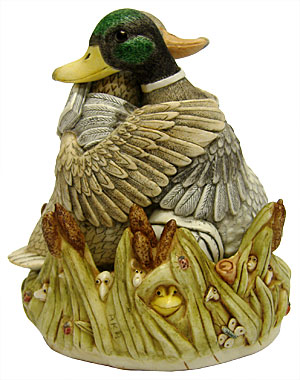 Safe Journey with Across The Pond

EVENT PIECES

THE NEWPORT HARBOR HOTEL AND MARINA