GATHER AT THE HK CORRAL!!

The HK House of Peers, in conjunction with Harmony Kingdom, is pleased to announce a special gathering at the HK CORRAL in Phoenix for a western weekend. Come join old friends and make new ones. Start making your plans to mosey out West for a fun-filled weekend of old-time camaraderie, some gaming down at the saloon, plenty of good eats, and a few prize goodies for the saddlebags!
The dates are October 13-15, 2006 – the place is Phoenix, Arizona – an oasis in the beautiful desert country! If you've never been there, you might want to add a few days to your trip to do some sightseeing to possibly visit the Grand Canyon and other amazing sites. HOP has an optional trip to Sedona scheduled for Thursday, the day before the convention begins.
A fun-filled weekend is being planned for all Harmony Kingdom collectors! We will have games, artist signings, event pieces, a swap 'n sell, the ever-popular Lucky Dip, door prizes, raffles, and an auction with rare Harmony Kingdom pieces. We begin with a Lunch with the Artist on Friday. That night join us at the Charity Fundraiser Casino Night. Line dancing will follow our Saturday western style cookout. For those who need to learn, lessons will be provided earlier in the day. And that's just a taste of the activities coming your way.
Our guests of honor will be Harmony Kingdom artist Peter Calvesbert and our Founders Noel Wiggins and Lisa Yashon. We are also pleased to announce the appearance of Harmony Ball staff members Sandy Auer and Bobbie Hill. Peter is bringing his family with him to enjoy the southwest part of the US!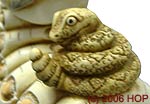 Sherman Drackett has carved Desert Serenade, an event exclusive figurine for attendees. And, Peter Calvesbert has carved the most unusual figurine Cowboy Boots and a self-portrait pendant Pistol Pete which are available for attendees to purchase. Read more about our EVENT PIECES, complete with the latest pictures! Orders must be received by September 18, 2006.
The cost of the event is $225 per person. Registrations must be received by September 30, 2006. HK CORRAL REGISTRATION. Independent club or Royal Watch membership is not required for attendance.

The host hotel is the EMBASSY SUITES HOTEL PHOENIX-TEMPE just six miles from Phoenix Sky Harbor International Airport. All suites include a separate living room with a sofa bed and kitchen area with a refrigerator and microwave. Hotel reservations, independent of the event registration, must be made before September 19, 2006. Guests at the hotel receive:
Complimentary cooked-to-order breakfast
Manager's cocktail reception every day
Free transportation from/to the airport
Free car parking
Wireless high-speed internet access is available throughout the hotel
What are you getting for your fee? See our SCHEDULE OF EVENTS for the weekend. In addition to entry to all activities, attendees will receive two event box figurines in addition to the Early Bird figurine Boots (if qualified). Fees also include the "Lunch with the Artist" and the "Western Buffet Dinner." There are many opportunities to win in the contests and games throughout the weekend. Everyone receives a "goodie" bag and can enjoy the delightful selection of items in our Hospitality Suite.
A special message board was created on MSN at [http://groups.msn.com/HKCorral]. While this board can be read by anyone, posting is restricted to attendees or people with a role in the event. The message board was created to give attendees a place to ask questions or talk about the upcoming event. You can get ideas of places to go or things to see while in the Phoenix area, maybe find a roommate, and even participate in a weekly contest.
Each week, on the HK CORRAL message board, ONE person will receive $10 in HK Gold Coin which will be waiting for them in their HK CORRAL registration packet. The 'Coin' can be used for purchasing charity drawing tickets and merchandise at the event. (The 'Coin' cannot be used prior to the event.) You will be automatically included in the weekly drawing with a post to any thread; between Wednesday and Tuesday of the following week.
Ready to Attend?
To register, go to the secure HK CORRAL REGISTRATION page. Payment can be made by check, credit card (VISA or MasterCard), or PayPal.

Get your hat and boots, and then meet us at the HK CORRAL in Phoenix.
For more information,
contact Pat Steven by e-mail at [registration@houseofpeers.com].


HK CORRAL
EMBASSY SUITES HOTEL PHOENIX-TEMPE
PHOENIX ZOO / DESERT BOTANICAL GARDEN