SEDONA TOUR INFORMATION
This trip has everything!!! See the Old West, ancient Indian ruins, and the astounding scenery that inspired Walt Disney's Fantasia are all highly accessible attractions in Sedona, one of the world's most beautiful settings. Sedona has been the inspiration for a multitude of artists and photographers with its spectacular
Red Rock formations. In fact, the film industry discovered the area over 70 years ago. If you like old westerns, you've seen Sedona many times.
Once an isolated stage stop, Sedona, which was named after a woman as beautiful as the city itself, is now 2nd only to the Grand Canyon in Arizona's visitation spots. While in the area, we'll weave our way through towering red limestone formations with names like Court House, Cathedral, Bell, and "Snoopy." There will be ample photo stops along the way, including the amazing Chapel of The Holy Cross, which looks as though it has grown from the rocks themselves and is always a favorite stop for pictures.
Of course, the Sedona tour is a lot more than just a ride to Sedona. On the way, we will stop at Montezuma's Castle, a pre-Columbian ruin of the Sinagua tribe. A classic example of a cliff dwelling, this five-story building made of rocks, sticks, mud, and a natural limestone cave is well worth the stop. No one knows exactly why the tribe left about 500 years ago.
Lunch will be in Sedona, everyone will be on their own for this. The tour guide may offer to let you stay on the bus for more sightseeing, while others enjoy lunch and free time in Sedona. There will be some rolling photo opportunities during this additional sightseeing time. If you plan to stay on the bus, instead of having lunch in Sedona, you might want to bring a sack lunch with you. After lunch in Sedona, there is time for shopping at Tlaquepaque's many art galleries or in uptown Sedona. Tlaquepaque is Sedona's arts and crafts village. It has an exceptional collection of galleries, shops and fine restaurants. The area emulates the methods of construction employed by Mexican artisans and builders-graceful arches, dancing fountains, tranquil plazas and shady verandas. Website: [www.tlaq.com].
There will be photo opportunities at Bell Rock and Airport Mesa. Bell Rock is considered one of Sedona's spiritual vortex centers. Many believe the rock energizes and calms those upon its slopes. The bell shaped landmark rises 550 feet and is located at the northern edge of the Village of Oak Creek. The airport at Sedona is on a mesa 150 meters above the town. Airport Mesa is an easy place to access and the views are well worth the five minute climb. At the top of the trail a 360 degree panoramic view includes Sedona and the Red Rock area. Airport Mesa also contains one of Sedona's vortexes.
The cost is $90 per person for the entire day. The Sedona Tour departs at approximately 7:30 am and returns to the hotel between 6:00 and 6:30 pm. In addition to the transportation on the bus, the entrance fees to Montezuma's Castle are covered. You will be treated to cold water and sodas on the bus, along with a snack on the way back. Each person attending will receive a goodie bag and can participate in a number of games and prize drawings on board the bus during the trip. The goodie bag will have a wonderful surprise for those joining us on the Sedona Tour. Perhaps we'll even have some cowboys 'hop' on the tour!

HOP ALONG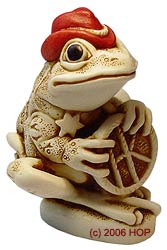 In addition to the breathtaking views on the tour to Sedona, all attendees will receive HOP Along in their Goodie Bags. This delightful creation by David Lawrence was commissioned by Sonoran Harmony and HOP exclusively for use in conjunction with the pre-convention activities. This frog is well traveled as he first appeared with a crown as King Firkin I, as a gift from Tri-State Kingdom to their club members. Who knows where this frog will be seen next?
HOP Along in his red hat is exclusive to the people registered for the Sedona tour. A limited number of figurines and spaces on the tour are available, so don't miss your opportunity to enjoy a fun day with breathtaking vistas, and the chance to take hope the red hat HOP Along at the same time.
A limited number of tickets are available. To purchase tickets, visit our secure OPTIONS ORDER FORM page.
For more information,
contact HOP by e-mail at [registration@houseofpeers.com]
or call Pat Steven at 703-256-3506.


REGISTRATION
EMBASSY SUITES HOTEL PHOENIX-TEMPE
PHOENIX ZOO / DESERT BOTANICAL GARDEN
SEDONA, ARIZONA TOUR