The HK House of Peers in conjunction with Harmony Kingdom is pleased to announce a special gathering at the HK CORRAL in Phoenix for a western weekend. Join us October 13-15, 2006.
Take a look at the SCHEDULE OF EVENTS and see what is being planned for your enjoyment!
You won't want to miss all the activities that are planned. Details are always being added, some you won't know about until you attend the event, for all others check here often.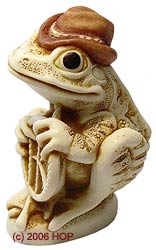 The local HK collectors club in Phoenix, Sonoran Harmony, wants to welcome all of the visitors to their part of the world. Sonoran Harmony has teamed up with Mazar Bazaar to cordially invite you to their "Open House" on Wednesday, October 11th in the Junior Ballroom of the Embassy Suites Hotel. The event will start at approximately 7:00 pm and will end at 9:30 pm. The event will be a signing event with Master Carver Peter Calvesbert.
Sonoran Harmony will have a special figurine for purchase during this event. Plop Along is a darling gun slinger frog by Master Carver David Lawrence. He is the brother to HOP Along, a Sedona tour attendees gift, and sports a brown hat. Plop Along can be purchased for $25 and is limited to one per family attending the "Open House" event.

"Picnic with Pete"
Attendees at the lunch on Friday will have an extra special opportunity to participate in an auction! The auction will be for a large Longaberger picnic basket that contains a prototype of one of the HK/Longaberger collaborations by Sherman Drackett. In addition, the auction includes a special "Lunch for Two." The winning bidder will have the honor of a private lunch with Peter Calvesbert on Saturday. The luncheon will take place in a private room in the hotel. The winning bidder will be able to order their special lunch where the hotel staff will serve the two of you.

ARTIST SIGNINGS
This is a great opportunity to have Pete sign some of your personal pieces. In order to accommodate all collectors, each attendee will be limited to five (5) pieces to be signed. All of the event pieces carved by Pete will be pre-signed, so you won't need to include those. Each attendee will select a 30-minute signing time slot. Provided everyone in the time slot has had their pieces signed, you may go through the line a second time.

LUCKY DIP
One of our fundraising activities is the Lucky Dip. This helps to offset the costs of the event and also helps to keep the registration fees lower. This highly popular game was introduced to our collectors at Claire de Lune. Hundreds of prizes will be available for you to win with the draw of a ticket. Your changes of winning are approximately one-in-three.
In order to assist us in obtaining the number of prizes needed, we are looking for donations from our attendees. We already have the support of Harmony Ball Company as well as dealers, and other sources. All donors will be recognized in the Event Program. If you would like to donate items for the Lucky Dip or door prizes, e-mail [registration@houseofpeers.com] or call Leanna Barron at 914-423-8890. Donations must be shipped to:
Sally Fiske
42011 North Astoria Way
Anthern, AZ 85086
and arrive no later than August 15, 2006. Any donations arriving after that date cannot be guaranteed to be recognized in the Event Program.

LIVE CHARITY AUCTION
In addition to just having fun, HOP had two major objectives for this convention: provide opportunities for collectors to obtain rare pieces; and to give back to the communities through charitable fundraising. At the same time, we strive to provide opportunities to one and all, regardless of the depth of your pockets. We have two opportunities to obtain rare pieces: the LIVE CHARITY AUCTION and the RAFFLE OF A LIFETIME.
Convention attendees have an opportunity to participate in the LIVE CHARITY AUCTION on Sunday, benefiting NAMI (the National Alliance on Mental Illness). We currently have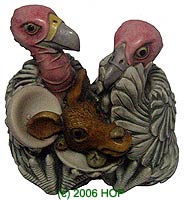 donations assuring us of over 30 special items for the live auction. Checks (payable to NAMI), cash, and VISA/MasterCard will be accepted. A list of items will be posted prior to the auction.
We have obtained an outstanding mix of items with something for all pocketbooks ranging from affordable to very valuable. Here are a few to whet your appetite! Pete has sent us a solid body prototype of Head Over Heels without a base. Paul Frape, from the HK factory in England, sent us a solid body Holy Guacamole. And, once again Noel Wiggins has offered a one-week stay in May or June 2007, at the fabulous Zenaida Beach & Tennis Estate in lovely Anguilla, British West Indies. (Airfare is not included). There are seven bedrooms and eight bathrooms in two villas, and a guest cottage, that will accommodate up to 14 people.

RAFFLE OF A LIFETIME
You will be astounded at the collection available for you to win in the RAFFLE OF A LIFETIME. If you purchase a ticket, you will have a one-in-three chance to win. What odds! And when you do win, you get to pick the prize you want! How much better can it get? Each attendee can purchase one ticket at a cost of $30. The tickets are available to attendees. The number of prizes available at the raffle exceeds 50 prototypes, samples, unreleased items, high cost HK figurines (like Perfect Ten and the Signature Series set of 5) and other interesting objects d'art.
When you register at the convention, you'll receive a complete list of the items in the raffle. This will give you two days to prioritize the items you want the most. Purchase your RAFFLE OF A LIFETIME ticket now!

HOW MANY PIECES CAN BE SIGNED?
HOP is cognizant of the collectors' desire to have face-to-face time with the artists. We also know that not everyone wants to stand in a line to have the event items signed. So, Boots, Cowboy Boots, and Pistol Pete event figurines will be pre-signed. You will have ample opportunity to talk with the artists and HK founders and notables throughout the weekend.
However, one of the major activities for collectors is to get pieces signed by the artists. When you register on Friday, you will be able to select a signing ticket for your time on either Friday or Saturday afternoon; a specific half-hour period in the selected session. This ticket allows you to have 5 items signed by Peter Calvesbert. Since the pre-signed event figurines will reduce the amount of signing to be done, you may go through the signing line again, if there is no one still waiting, during your 30-minute signing period.

DRESS CODE
All events are casual dress. However, we suggest a western style dress for the Saturday night Hoedown, as we will have a costume contest for the best dressed 'dude' and 'dudette' at the dinner. So, bring your Stetson, your chaps, your boots, and stomp right in. Gals... let your imagination be your guide, from jeans to those prim 'n proper dresses to some mighty fancy saloon garb, all are welcome.

WHO'S WHO AT THE CORRAL
How many times have you been to an HK or other event where there are people attending that you know through the Internet and e-mail, but don't know what they look like? HOP has the solution. We are asking people to send in pictures to our registrar and you will be included in the Who's Who Yearbook. We will include your name and the state where you reside. If you approve, your e-mail address will be included. Space will be provided for you to add other personal information, if you wish, for those for whom you would like to maintain contact after the event. To be included, send your picture and other information to Pat Steven by e-mail to [registration@houseofpeers.com] or call her at 703-256-3506.
For more information,
contact HOP by e-mail at [registration@houseofpeers.com]
or call Pat Steven at 703-256-3506.


REGISTRATION
EVENT DETAILS
EMBASSY SUITES HOTEL PHOENIX-TEMPE
PHOENIX ZOO / DESERT BOTANICAL GARDEN