PHOENIX ZOO INFORMATION
Voted one of the nation's top five zoos for kids!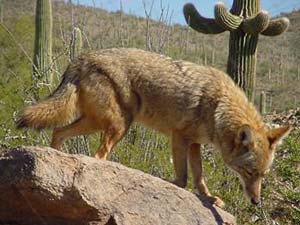 Located at 455 North Galvin Parkway, Phoenix, Arizona, there is 125 acres of land including exhibit, non-exhibit and operations areas.
There is approximately 2.5 miles of walking trails. The Zoo has been divided into four different trails; usually the Africa and Tropics Trails take about an hour each and the Arizona and Children's Trails take about a half hour each. They recommend approximately 2 and a half to 3 hours to see the Zoo, depending on the size and ages of the group, and how fast you walk. Zoo hours are 9:00 am to 5:00 pm. For more information visit: [www.phoenixzoo.org].
They have approximately 1,200 animals on exhibit at the Zoo, including the collections of mammals, fish, invertebrates, birds, and reptiles.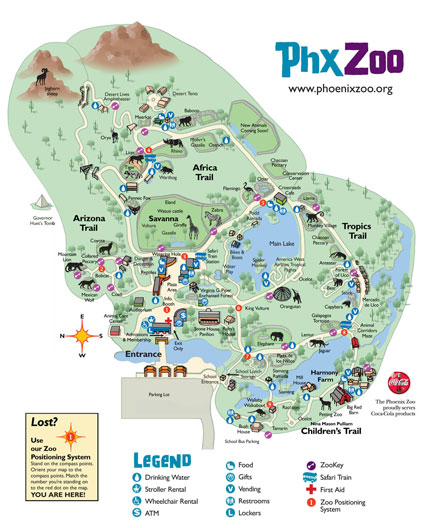 DESERT BOTANICAL GARDEN INFORMATION
Nestled amid the red buttes of Papago Park, the Desert Botanical Garden hosts one of the world's finest collections of desert plants. One of only 44 botanical gardens accredited by the American Association of Museums, this one-of-a-kind museum showcases 50 acres of beautiful outdoor exhibits. Home to 139 rare, threatened, and endangered plant species from around the world, the Garden offers interesting and inspiring experiences to more than 250,000 visitors each year.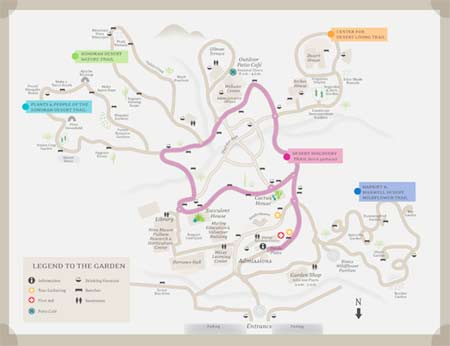 Desert Discovery Trail
Take the Garden's main trail, a brick path, and learn the unique characteristics of desert plants from around the world. Featuring the Garden's oldest plantings, this 1/3 mile trail features a rich variety of displays and exhibits, and leads to all trailheads and facilities.

Plants & People of the Sonoran Desert Trail
As desert dwellers, we interact with our surroundings, and this trail explores the many uses of desert plants for food, construction, tools, basket-making, and more. Twist agave fibers into twine and pound mesquite beans to make flour on this 1/3 mile trail.

Harriet K. Maxwell Desert Wildflower Trail
On this trail, you'll see how wildflowers attract hummingbirds and butterflies (and people, too). Discover the beauty, color, and diversity of wildflowers in North America deserts, and how they play a role in the desert's ecosystem.

Sonoran Desert Nature Trail
Change your point of view on this 1/4 mile trail, which features dramatic vistas of distant mountains and close-up looks at the surrounding desert. A variety of fascinating exhibits focus on both the plants and animals of the Sonoran desert.

Center for Desert Living Trail - Desert House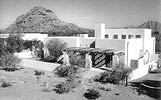 How do you lie in harmony with the desert? This 1/4 mile trail provides helpful tips about desert landscaping, gardening, and conservation. Highlights include the vegetable and herb demonstration garden, Desert House, and Desert House exhibits.

The Desert House research and demonstration project was designed to provide reliable information on how to live comfortably and economically in hot arid regions with modern amenities without wasting natural resources. Data from the Desert House can help homeowners determine the best ways to build and landscape a home using readily available, cost effective materials and products.

DESERT BOTANICAL GARDEN EXHIBITS
Mariposa Monarca
Monarch Butterfly Exhibit
September 30 – November 5, 2006

Paul Stankard: A Floating World
40 Years of an American Master in Glass
October 1 – November 19, 2006
Desert Botanical Garden hours are 8:00 am to 8:00 pm. For more information visit: [www.dbg.org].

TICKET INFORMATION
Phoenix Zoo
Adults (Ages 13 and above) $12
Children (Ages 3–12) $4.50
Desert Botanical Garden (Includes Monarch Butterfly Exhibit)
Adults (Ages 13 and above) $9
Children (Ages 3–12) $4.50
Free transportation was provided from the hotel at 2:00 pm, returning at 5:30 pm. The last day to order tickets was September 18, 2006.


HK CORRAL

EMBASSY SUITES HOTEL PHOENIX-TEMPE
PHOENIX ZOO OR DESERT BOTANICAL GARDEN