Order deadline was September 18, 2006.

PISTOL PETE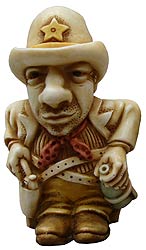 Pete (Peter Calvesbert) missed having his family with him in Seattle last year, so he is determined to have them attend this year in Phoenix. However, a family of four carries a large financial commitment for travel to the US.
Since a number of collectors have asked about a pendant for the event, Pete decided to solve two problems with one solution - Pistol Pete. He has carved a pendant rendition of himself as a gun totin' cowboy living in the wild west with his pistol ready to draw. He's included a cup holder where his liquid refreshment rests.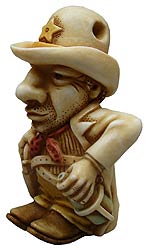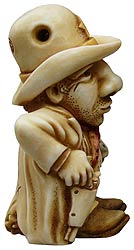 The delightful self-portrait pendant Pistol Pete is being produced by Paul Frape in the UK, where all of the HK figurines are produced. The pendant is limited to 200 pieces, the cost is $25, and the proceeds will help bring Pete's family to Phoenix. HOP is assisting Pete by processing the orders and payments. Each attendee can order one per person prior to the event. Any pendants remaining in Phoenix will be offered to the attendees on a lottery basis.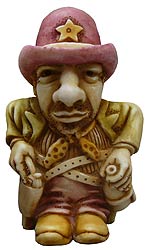 VIVIDLY PAINTED PISTOL PETE

Pete is adding a little excitement as a thank you for those who purchase his pendants. At the final session on Sunday, the names of everyone who has purchased his pendant will go into a hat. Then TEN individual names will be drawn in front of everyone. Those lucky TEN will receive... a vividly painted version of Pistol Pete, for free!

Thanks Pete, for your generosity and appreciation!


DESERT SERENADE
As an attendee at the HK CORRAL, you will receive Desert Serenade, an exclusive event box figurine from Lord Byron's Harmony Garden. The American cowboy evokes a romantic imagery. Our basket bouquet, carved by Sherman Drackett, holds the summertime roses and tulips left far behind in the East with a sampling of garden fare found in the West - the prickly pear cactus. Inside a lonely Lord Byron travels the Santa Fe Trail, strumming his guitar and singing about the women he loved or lost, memories of back home, and the dangers he faces while on his journey. The edition size is 225 figurines.

COWBOY BOOTS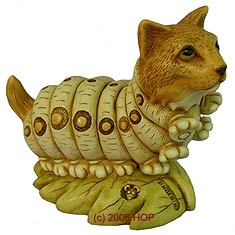 This just in!
The HOP gang was sittin' 'round the campfire the other night talking about the October 13–15 event. You know the one, that biggin' at the HK CORRAL in Phoenix, Arizona. You see, we had heard about that great little Cat-R-Pillar, Boots, and how it is available to folks who registered by March 31st. Well, let me tell you something - you need to have a pair of boots to get along with the doggies!
Our good buddy, Peter Calvesbert, who is joining us along with his clan at the HK CORRAL, has come up with a doozy of a piece for attendees to purchase. Meet Cowboy Boots, the wannabee cowboy that is really a Cat-R-Pillar!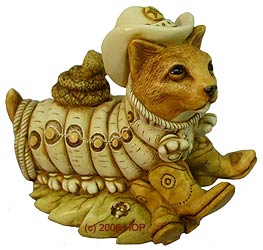 Cowboy Boots has been embellished with numerous secrets that are special for this Arizona weekend. The Cat-R-Pillar now sports his cowboy boots on a few of his legs, the Stetson hat on his head has seen a bit of the old west as proven by the appearance of the arrow, the lariat draped on the tail, the coiled snake on his back (a rather large version of Pete's new signature figure which allows the collector to remove the lid), and a Pete found inside proudly displaying the Circle HK brand.
Cowboy Boots, a limited edition of 225, was available for advance purchase by attendees. Any remaining figurines will only be available to attendee's on a lottery basis.
BOOTS
A limited number of Boots are available to certain levels of sponsorship. For more information, visit our SPONSORSHIP page.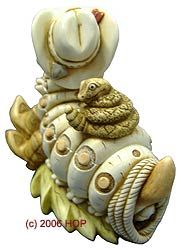 This is only a glimpse of what is in store for attendees at this great event. We want you to mosey on down to Phoenix, so load up your wagon, hitch up them mules, and plan to hit the trail October 13–15.
Hurry on down, now!


HK CORRAL
EVENT PIECES

EMBASSY SUITES HOTEL PHOENIX-TEMPE
PHOENIX ZOO OR DESERT BOTANICAL GARDEN