EVENT DETAILS
The HK House of Peers, in conjunction with Harmony Kingdom, was pleased to announce PASSPORT TO THE KINGDOM, an event in a part of the country steeped in history and now a playground for the well-connected folk. The Newport Harbor Hotel and Marina was the host hotel. Located on Aquidneck Island in the city of Newport, state of Rhode Island, the event was from October 30–November 1, 2009; Halloween weekend.

WELCOME RECEPTION
The local independent club Atlantic Kingdom Addicts invited attendees to a complimentary dinner. For those that arrived early to Newport, the reception and dinner was Wednesday evening, October 28, from 5:30–9:30 pm. Reservations were required by October 15, 2009.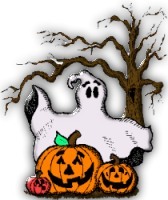 OPTIONAL OUTING
On Thursday, October 29, an optional outing was planned from 6:30–8:00 pm. An Olde Town Ghost Walk, walking less than one mile, will last approximately 90 minutes. Professional Guides will light your way. Ghost ships, graveyard crypts, and much much more! Take a lantern-led evening stroll down historic Newport, Rhode Island's shadowy lanes and discover the ghosts, ghouls, and legends of their haunted city by the sea. The cost of $25 included the walk and a special pendant, Ready To Eat, for those who reserved in advance.

ATLANTIC KINGDOM ADDICTS HOSPITALITY SUITE
A Hospitality Suite was open Friday and Saturday (except during opening ceremonies and meal events). The suite is on the upper floor of the hotel and features a large balcony overlooking the bay. Your hosts are members of Atlantic Kingdom Addicts.

FRIDAY LUNCHEON
Our Opening Ceremony began during the luncheon on Friday at noon. It is a plated lunch and you need to be on time, to be served. We offered you a choice of two entrées:
Grilled Chicken with Wild Mushroom Cream Sauce
Grilled London Broil served with Mushroom Demi-Glaze
Vegetarian meals will be provided on request
All selections included a salad of mixed field greens, chef's choice of vegetable and potato, rolls and butter, chocolate truffle cake, regular or decaf coffee, and tea. Dinner entrée online order selections must be made by August 31, 2009.

ARTIST SIGNINGS (FRIDAY, SATURDAY, SUNDAY)
This was a great opportunity to have our "Patriot" Pete sign some of your personal pieces! Peter once again asked for quality time with collectors to talk about what you like, what you want, or any other subject that you would like. In order to accommodate all collectors, each Collector had only one five-minute personal signing time with Peter Calvesbert. You could have up to eight (8) pieces signed. All event pieces carved by Peter were pre-signed before the event.
Collectors had two opportunities to have their pieces signed: eight during their private signing time and others on Sunday morning. During the Raffle of a Lifetime drawings on Sunday morning, additional pieces could be signed for a charity donation. The cost was $2 per signature or three (3) for $5. All money goes to the Potter League for Animals.
Over the years Peter has shared secrets of his relationship with his wife Andrea. She has been mentioned or featured on many figurines, such as the Anniversary series and the Ed's Safari series. On Saturday afternoon Andrea Calvesbert was available to sign figurines. So, bring any of your pieces that reference Andrea or include secrets about their wedding or children. You can go through the line multiple times.

One of the all-time favorite fundraising activities is the Lucky Dip, scheduled for Friday afternoon. This helps to offset the costs of the event, which in turn helps to keep your registrations fees lower. This highly popular game was introduced to our collectors at Clair de Lune 2000. Hundreds of prizes were available for you to win with the draw of a ticket. Your chances of winning this year are better than ever: 50% chance of winning on every ticket you draw. That's an increase from the 1 in 3 chances of previous years.
What is Lucky Dip you ask? Here's a quick bit! We have 500 prizes set on tables with winning ticket on them. a bucket has 1,000 tickets in it—half of them match a prize on the tables. You buy the right-to-draw-a-ticket for $2, or six (6) draws for $10, and then pull out a ticket from the bucket. If it matches one of the prizes, it's yours.
In order to assist us in obtaining the number of prizes needed, we were looking for donations from our attendees, as well as from our sponsors. We had the support of Harmony Ball Company, as well as dealers and other sources, but your help was also needed. All donors were recognized in the Event Program. Donations must arrive no later than August 31, 2009.

Enjoy some fun games, created just for you, as a charity fundraiser for the Potter League for Animals. Blackjack, Hot Dice, and our own brand of Horse Races will be available. This human version of the race ends the night. To participate, you purchase HK money and play the games. Your winnings, at the end of the evening, are traded in for Dollar Raffle tickets where you can select which of the over 70 prizes you would like a chance to win.


DOLLAR RAFFLE
On Friday and Saturday nights we selected over 70 different prizes for the Dollar Raffle, with one-third being prototypes or rare and hard-to-find pieces. Each prize had its own box for tickets, so that you know you'll only won something that you wanted.
Each ticket cost $1, with the proceeds donated to the Potter League for Animals. Tickets were purchased anytime Friday or Saturday at HOP Central. You could have also participated in the Casino Charity Night and traded your winnings in for tickets on Friday night. Pictures of the prizes along with the ticket boxes were on display Friday night. At the Halloween Party on Saturday night, the prizes were on display. This was your final opportunity to place your tickets in the boxes you desired.
Winners of the Dollar Raffle were drawn on Saturday night, October 31, 2009. Here are some prize samples:
La Connaissance (box prototype)
Ed's Safari III (solid prototype)
Braganza (dog & cat versions set)
Alf & Flo (factory visit exclusive)
Dead Ringer (box prototype)
Unbearables


Double Sterling Rose




YT42HK

(teapot)
Back Packing (factory visit exclusive)
Bruno's Buddies (box prototype)
Every

Royal Watch

Membership Kit (1996–2009) except for Purrfect Fit ----- plus lots more!

LUCKY DIP EXCHANGE
People who have attended the previous events know that they can get many prizes throughout the weekend. Some of them may be duplicates or items that are not just what you like. We added an hour on Saturday afternoon for you to bring items that you would like to exchange. There were easels and tables set up for you to make these exchanges. This was limited to swaps only. No dollars could be exchanged.

SWAP 'N SELL
One of the major activities on Saturday was the Swap 'n Sell during the morning session. This was a great opportunity for collectors, retailers, secondary market dealers, and clubs to buy and sell items and services of interest to HK collectors. The cost to vendors was still just $20 for a 6–foot long, skirted and draped table with two chairs. All vendors will be listed in the Event Program.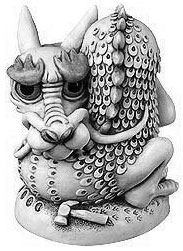 PAINT-YOUR-OWN
Every collector has a bit of artist in themselves. So, we have provided you with an unpainted version of Saint Or Sinner and we had the paints waiting for you, to see how well you can create your own masterpiece. Two lucky painters won an event prototype for the "best" Paint-Your-Own. One winner was selected by Peter Calvesbert and Lisa Yashon. The attendees voting at the Halloween Party selected the second winner.

CARVE-YOUR-OWN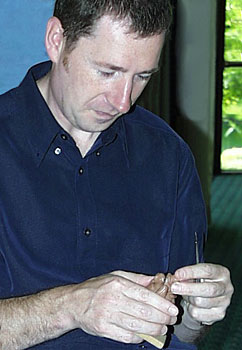 Calling all artists and wannabees—would you like to create a figurine in 3D?
For the first time ever we are having a Carve-Your-Own Contest, in addition to the Paint-Your-Own contest, at this year's event! If you've ever wanted to try your hand at carving an HK piece, this was your chance. Here's how:
Order your Carve-Your-Own Kit in advance so that it will be waiting for you at Registration. the cost is only $5. Each kit included a basic set of carving tools, enough Sculpey (the material you actually carve) for a small Treasure Jest or NetsUKe sized piece, and a stand (or armature) to work on, similar to the type Pete uses. You could have ordered more than one kit if you wanted a spare, or wanted some extra Sculpey to work with.
Pick up your Carve-Your-Own Kit during Registration on Friday morning.
Join us on Saturday, during the Artist's Workshop that runs all day. You can carve a figurine of your own, paint the event Paint-Your-Own piece, or do both! There were experts available at the Workshop to provide you with advice. Starting at 1:30 pm Peter was also at the Workshop and available to give advice and guidance. If you wanted to get a head start on your masterpiece, feel free to start at any time and bring your work-in-progress to the Workshop.
Turn in your finished model to HOP Central no later than 5 pm on Saturday, October 31. Entries were judged during the evening and the contest winner was announced on Sunday, during the Grand Finale Brunch.
The best part is... Peter takes the winning model to the factory in the UK and YOUR Carve-Your-Own piece will be made into a figurine! The winner ends up with a truly unique piece—only one will be made.
Your Carve-Your-Own Kit ordering deadline was August 31, 2009.


HALLOWEEN COSTUME CONTEST
Saturday night was a fun, relaxing party with three winners of event prototypes from our Costume Contest. There were two categories for judging—individual competition and pair competition.

In addition to just having fun, HOP had two major objectives for our convention: provide opportunities for collectors to obtain rare pieces; and to give back to the communities through charitable fundraising. At the same time, we strive to provide these opportunities to one and all, regardless of the depth of your pockets. So, we have two opportunities to obtain rare pieces: the Raffle of a Lifetime; and the Live Charity Auction.
The Raffle of a Lifetime is an astounding collection of prototype or higher valued items available for you to win in the Raffle. If you purchase a ticket, each ticket will have a one-in-two chance to win. And, when you do win, you get to pick the prize you want. How much better can it get? Each attendee can purchase up to two (2) tickets at a cost of $30 each. The tickets were available to attendees online through our OPTIONS ORDER FORM (online ordering is closed), or during the convention. The number of prizes available at the raffle usually exceeds 50 prototypes, samples, unreleased items, and high cost collectible figurines. Here is a very small sample:
Alf & Flo

(factory visit exclusive)


Parrot of the Kingdom

(purple)


Atlas Shrugged

(prototype)


Rise and Shine

(rare version 2)


Back Packing

(factory visit exclusive)


Pegleg Pete

(bronze)


Key To My Heart

(prototype)


Noah's Quark
As an attendee of the convention, you had the opportunity to participate in the Live Charity Auction, on Sunday, benefiting NAMI (National Alliance on Mental Illness). We usually have around 30 special items for the live auction. Here is a small sample of items:
Neighborhood Watch III

(solid prototype)


Retired Racer Redux

(rare version solid prototype)


Cat Atop Clock

(prototype by Sherman Drackett)

Masking Reality


Strida Folding Bicycle ($800)


Patriot Pete

(bronze)

Phoenix Consortium

(solid prototype – special HK CORRAL commission (LE 10))


Rabbit In Top Hat

(1st carving ever by Peter—from his personal collection—never produced

DRESS CODE
All events were casual dress. However, we suggested you dress up as your favorite Halloween character for the Saturday night Halloween Party, as we had a Costume Contest for the best dressed goblins in our crowd. The winners walk away with event prototype figurines. It was well worth the effort to get your mind in gear early. There were two categories: one for best single costume; and one for best pair (two prizes for the pair). So, have the best Halloween of your life!

EVENT DETAILS

THE NEWPORT HARBOR HOTEL AND MARINA