NEWPORT AREA ATTRACTIONS
A world of excitement outside your door.
When you choose The Newport Harbor Hotel and Marina for your stay or event, you're minutes away from a world of elegance, beauty, and excitement. The most popular of all Newport attractions are the breathtaking Newport mansions—America's premier collection of historic houses and gardens—that bring America's heritage to life. Tour the "summer cottages" and you will take a step back in time to see how the rich and famous lived. Newport has one of the highest concentrations of colonial homes in the nation.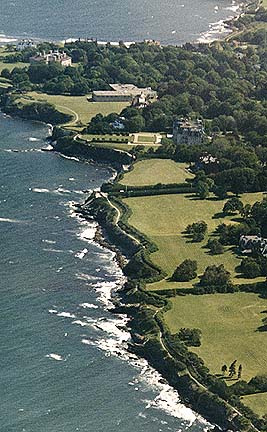 Stroll the famous Cliff Walk along the eastern shore of Newport. It is world famous as a public access walk that combines the natural beauty of the Newport shore line with the architectural history of Newport's gilded age. Wildflowers, birds, geology ... all add to this delightful walk. The Cliff Walk starts at the western end of Easton's Beach (Newport's First Beach) at Memorial Boulevard and runs south with major exits at Narragansett Avenue, Webster Street, Sheppard Avenue, Ruggles Avenue, Marine Avenue, Ledge Road, and Bellevue Avenue at the east end of Bailey's Beach. This and other self guided walking tours through colonial neighborhoods and Ocean Drive are not-to-be-missed Newport attractions as well.
Newport is home to many legendary festivals such as the Snapple Sunset Music Festival (June/July/August) and Schweppes Great Chowder Cook-Off (June) located at the Newport Yachting Center just blocks away from the hotel. Or you may travel by boat to Fort Adams State Park to attend the world famous JVC Jazz Festival (August) which has featured artists including BB King, Al Green, and George Benson.
The Newport Water Taxi is located next to the hotel and provides round trip transportation to Fort Adams State Park, Goat Island, Rose Island Lighthouse, and Jamestown. Throughout Newport there is statuary depicting Newport, Rhode Island's rich and colorful history.
A Paradise for Art Lovers
America's most elegant offers many choices for visitors. Many artists make their home in Newport, Rhode Island and feature an array of works in various mediums. Their work is on display and for sale as a variety of art galleries. Newport Gallery Night (second Thursday of the month) is a great opportunity to see their work and meet them. check with your innkeeper or concierge for exhibit openings. The Newport Art Museum is open year round and has several galleries with changing exhibitions.
Museums
In additions to the Newport Art Museum, Newport is home to the International Tennis Hall of Fame and Museum, the United States Naval War College Museum, and Museum of Newport History. The Museum of Yachting is a must see and is located overlooking Newport Harbor and historic Fort Adams. The Artillery Company of Newport offers tours by appointment and is interesting to military enthusiasts. Everywhere you look there are historic points of interest. Check with the concierge at The Newport for openings, exhibitions, and other special events.
Shopping
Shop till you drop! Stroll the famed Bellevue Avenue, Franklin Street, or Bowen's Wharf. Shop for the latest styles, pristine antiques, or a simple souvenir of the "City by the Sea" – and The Newport is right in the middle of it all!
Vineyards and Wine Tasting
Rhode Island boasts several outstanding vineyards offering tours and tasting daily. Our long, warm summers and mild winters create the perfect climate for growing the grapes that become world-class wines. Many Newport restaurants offer local vintages on behalf of Rhode Island wineries. Be sure to sample them while visiting. Bring a loaf of bread and some cheese with you, as these are great places to have an impromptu picnic.


THE NEWPORT HARBOR HOTEL AND MARINA
NEWPORT AREA ATTRACTIONS