The

HK House of Peers

, in conjunction with

Harmony Kingdom UK

and

Harmony Ball Company

, featured

SOUTHERN COMFORTS

– April 4–7, 2013, in Atlanta, Georgia.

EVENT LOGO MERCHANDISE
Event logo merchandise was available to order! The event merchandise for Atlanta was selected to suit the time of year and the theme of the event. We had polo shirts made of 100% Egyptian cotton—a medium weight fabric, to cope with the coolness or warmth found in the Atlanta spring time, and colors that go with our P's theme of peanuts, pecans, and peaches (chocolate brown, tan, white, and greens).
You were able to choose polo's or T-shirts or several bag options. The polo's and T-shirts were available in unisex sizes as well as the ladies cut. Please note there was a February 15, 2013, deadline.

COORDINATED SHIRTS
These were our coordinated shirt offerings. They were available in Tan, White, and Chocolate:
UNISEX PIQUE POLO is a 6.7 oz. 100% Cotton Premium Pique Polo. 100% Egyptian ringspun cotton. It is soft and comfortable with a 3-button placket, bone horn buttons, rib knit curl free collar, tail back, side vents and banded sleeves. Sizes XS/S/M/L/XL cost $20. Sizes 2XL/3XL/4XL/5XL 6XL cost an additional $2 per size, starting at $22 up to a max of $26 (4XL).



LADIES PIQUE POLO

uses the same fabric and design as the Unisex Pique Polo. It has a shape for a more flattering feminine fit. Sizes S/M/L/XL cost $20. Sizes 2XL cost $22, 3XL costs $24, and 4XL costs $26.
To show a comparison of the unisex shirt to the ladies cut, you should generally order a ladies cut shirt one size larger than the unisex version. For instance we compared a 2XL ladies cut to an XL unisex shirt. In addition to the shorter sleeves on the ladies cut (approximately 1"), the shoulders are over 2" narrower on the ladies cut. The waist and hip the same for the two sizes with the length being shorter on the ladies cut. Therefore, you would probably order one size larger in a ladies cut than you order in the unisex sizing, if the body portion of your unisex shirts fit.

You could have contacted us if you wanted the Polo or T-shirts in Youth sizes. Some shirts could have been ordered in 5XL or 6XL sizes.

COTTON T-SHIRT

is constructed from 6.1 ounce heavyweight 100% cotton. It is taped shoulder to shoulder, has a cover seamed neck and double-needle hem. Made with heavyweight cotton and quality construction, this can become your favorite tee and will look great wear after wear. It is available in Colonial Blue, Charcoal, and Dill Green. Sizes S/M/L/XL cost $15. Sizes 2XL to 6XL cost an additional $2 per size, starting at $17 (2XL) to a max of $25 (6XL).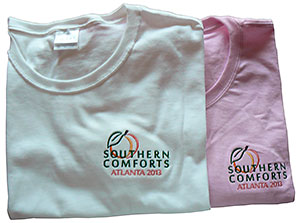 LADIES COTTON T-SHIRT

is a 6.1 oz. Ultra Cotton (100% preshrunk cotton) with double-needle stitching throughout. It has a seamless collar and taped shoulder-to-shoulder. The feminine cut includes a narrow 5/8" ribbed neck. It is available in White, Pink, and Pistachio. Sizes XS/S/M/L/XL cost $15. Sizes 2XL costs $17 and 3XL costs $19.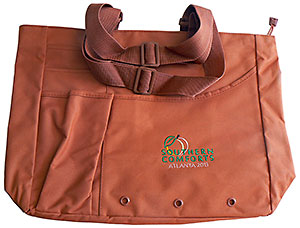 TOTE BAG
Our bag this year is a very versatile tote bag. This brand-new bag is made with recycled fabric. It is 50% recycled polyester 600D/PVC 15"w x 13"h x 4"d. It has a zippered main compartment and a contoured main front pocket with vents. Inside is an 8" x 9" zippered hanging pocket and J-hook ring. The outside includes a gusseted front side-pocket, a plastic accessory hanging ring, plus pen/pencil, water bottle, and cell phone holders. The handles are 30" long and adjustable. The tote bag was offered in Burnt Orange and costs $18.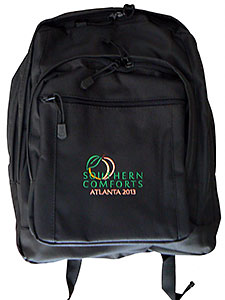 BACKPACK
This backpack was introduced to you in Orlando and is back by popular demand. It has two large compartments plus plenty of places to stash your odds and ends—all at a real value. It is made of 600 denier polyester with ergonomic padded straps and back for carrying comfort. Included is a front zippered pocket with an organizer panel.
The dimensions filled are 17" high x 12.5" wide x 7.75" deep—approximately 1,650 cubic inches. This backpack filled fits the maximum size for a free Personal Carry-on when traveling on most airlines.
The cost was $20 and may have been ordered in Black (shown), Hunter Green, or Navy.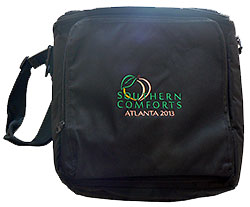 COOLER
This insulated Picnic Cooler is made of 600D Polyester material with vinyl backing. The size is 9.5" x 11" X 5.5". The cooler features a double zippered main compartment, a double zippered front pocket, and an adjustable/detachable shoulder strap, plus a carry handle. The cooler will hold 12 cans or 6 cans, plus your cold foods on top of the cans.
The cost was $15 and was only available in Black.

The merchandise order deadline was February 15, 2013.

EVENT MERCHANDISE