SCHEDULE OF EVENTS
A weekend of events is planned to start with an Optional Outing tour of New Orleans and a sugar plantation on Friday, April 6th. The official event is Saturday, April 7th with new activities throughout the day.
The current schedule is:
DATE
TIME
ACTIVITY
FRIDAY, APRIL 6
9:15 a.m. – 4:00 p.m.

New Orleans City & Plantation Tour (Optional): The coach leaves the hotel promptly at 9:30 a.m. and you spend the day seeing New Orleans and Oak Alley Plantation.
Lunch is not provided, but there are two stops where you can get food.

SATURDAY, APRIL 7
9:30 a.m. – 11:00 a.m.

Registration
Any time during the morning you get in line for your registration package. It will have your event pieces, any items you ordered, your name badge and Goodie Bag.

9:30 a.m. – 12 noon

Peter Calvesbert Signing
If you want items signed, this is your chance in an old-fashioned Signing Line.

9:30 a.m. – 4:00 p.m.

Paint-Your-Own (All day)
Have fun painting your own color selections for the Paint-Your-Own (unpainted Texas Speed Bump) figurine. There is no contest, BUT a prize winner will be drawn from all who participate, so have fun!

11:00 a.m. – 4:30 p.m.

Swap 'n Sell setup and sale
Raffle Ticket Sales and Silent Auction bidding

12 noon – 1:15 p.m.
Buffet Lunch is Served
All other activities are suspended
1:15 p.m. – 1:30 p.m.

Ballet Performance by Millie Calvesbert (if in attendance)

1:30 p.m. – 4:30 p.m.

Activities include:

Bingo with special HK prizes
Puzzles & Scavenger Hunt

3:30 p.m. – 4:30 p.m.
Afternoon Tea – enjoy coffee or a selection of teas with your cake.
4:30 p.m. – 5:15 p.m.

Winners!

Raffle Drawings
Puzzle & Scavenger Hunt Winners
PYO Winner
Silent Charity Auction

5:30 p.m.
Farewell
NEW ORLEANS CITY & PLANTATION TOUR (Optional)
Join us on Friday for a coach tour of the City and Oak Alley Plantation. Visit the OPTIONAL EVENT TOUR page for a more detailed description.
Our exclusive tour designed just for us in New Orleans includes:
Introduction to the French Quarter, Jackson Square, French Market, and U.S. Mint
Esplanade Ave. with fine Creole homes with delicate wrought iron fences and balconies
Visit St. Louis III Cemetery often called "the city of the dead"
Beautiful City Park with its lush greenery and scenic lagoons including stop for coffee and beignets at Morning Call Coffee Stand
Hurricane Katrina review as we travel through Lakeview, one of the hardest hit areas of New Orleans, and view the massive pumping station in the 17th Street Canal at Lake Pontchartrain
Tour the home and grounds of the Oak Alley Plantation, which was once a sugar plantation
Travel through the old town of Carrollton and the route of the St. Charles Streetcar passing Tulane and Loyola Universities
See the ancient oaks of Audubon Park
View some of the city's loveliest Uptown neighborhoods and the Greek Revival architecture of the Garden District
You must meet in the Royal St. Charles Hotel lobby at 9:15 a.m. and the tour departs at 9:30 a.m. and will last 6—6 1/2 hours.

The cost for the trip is $78 and includes: an air-conditioned motor coach, a licensed Tour Guide, entrance into Oak Alley Plantation, and coffee with beignets at Morning Call Coffee Stand. Participants will receive a special HK gift.

While lunch is not provided, you will have two opportunities to get refreshments – at Morning Call Coffee Stand and/or the Plantation Cafe & Ice Cream Parlor.


PETER SIGNING

If you want items signed, this is your chance. It is just an old-fashioned Signing Line with a maximum of five (5) pieces signed each time through the line. If you want more signed, go back through the line once again. Everyone registered can participate in the Signing Line (Collector or Associate). A suggestion for those coming from a distance: just bring the lids to be signed. That's how most people did in the 1990s and early 2000s at the International Collectible Exposition in the US and the Birthday Bash events in the UK.

Note: All event pieces will be signed in advance.


WHAT DO YOUY GET FOR YOUR REGISTRATION?

In case you are not sure of what you get for your registration, when you are present at the event, here is a quick glimpse.

NOTE: If you registered as an Attending Collector and do not appear at the event, your registration reverts to the privileges of a Non-Attending Collector. You will be refunded for any "Attendee Only" items you may have ordered, and charged shipping costs for your items, unless we know at least 10 days in advance. See a description of the Non-Attendee privileges at EVENT OFFERINGS & REGISTRATION.

All attendees (Collectors and Associates) receive the following, as part of your registration:
Saturday buffet lunch and Afternoon Tea
Goodie Bag which includes a special piece as a gift from Pete and Andrea
Plus participation in all activities throughout the weekend.
Collectors also receive:
Event box figurine Gambolling Gators, one included with your registration, and the option to buy additional pieces
Early bird figurine Mardi Gras Pete (if you qualified)
Both Collectors and Associates also have the right-to-buy these optional items, download (.PDF) and "Fill & Sign" the Attendee Order Form:
Gambolling Gators II - our "Version 2" solid figurine
Right-to-Buy Faithful Followers – the exclusive box figurine for those in attendance only
Paint-Your-Own (unpainted Texas Speed Bump) figurine
Merchandise exclusive to the event
As many Raffle Tickets as you like!

CHARITY ACTIVITIES
Some activities are planned to focus on giving back! At the UK event last year, we raised $12,000 for charity. To do this, we have raffles and auctions to support the charity: National Alliance on Mental Illness (NAMI) at www.nami.org. You can pre-order raffle tickets which are personalized with your name. The cost is two tickets for $5.00 or ten tickets for $20.00. A few of the raffles are offered to Non-Attending Collectors and the public. A list of raffles and auctions will be available after the first of the year.
Cash, checks, and credit cards can be used for raffles and the silent auction. You can make your checks for raffle tickets payable directly to NAMI, for our charity, or to HK House of Peers.

SWAP 'N SELL
Do you have a handmade craft that you would like to sell? Do you have any extra pieces you don't need? One activity on Saturday is the Swap 'n Sell. The cost is $20 for a skirted and draped table with two chairs. If you would like to reserve a table (or two), download (.PDF) and "Fill & Sign" the Attendee Order Form. If you have questions, call Leanna Barron at 678-919-1977 or email registration@houseofpeers.com.

PAINT-YOUR-OWN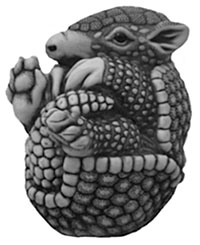 Have you always wanted to create your own painted version of a figurine? Here's your chance! Paint-Your-Own figurines (unpainted versions of Texas Speed Bump) are available for only $25 each, and you can order as many as you like, just download (.PDF) and "Fill & Sign" the Attendee Order Form. A few will be available at the event for those who get the last-minute urge to paint. Paints and brushes are provided to create your one-of-a-kind painted masterpiece, or you can bring your own brushes. This is a full-size Treasure Jest box figurine that you have plenty of time to paint.
While there is no judging contest, we will have your personal masterpieces displayed AND a prize winner will be drawn from all who participate. So, have fun!

EVENT MERCHANDISE
Event shirts are available for pre-order only. Shirts are available in the Mardi Gras colors of purple, gold, and green. See the EVENT LOGO MERCHANDISE page for a detailed description and order form.

SUMMARY
Harmony Kingdom UK and HK House of Peers are thrilled to have so many people coming to this event in New Orleans! We want this to be a special event to celebrate your support of Peter and Andrea Calvesbert and Harmony Kingdom over the last 22 years. Remember to order whatever you want in advance because we cannot guarantee to have pieces available for sale at the event.
When paying for any optional orders by check, make it payable to HK House of Peers. When paying for advance raffle tickets, make the check payable to HK House of Peers, or to the charity NAMI. You can also use a Visa, MasterCard, American Express, Discover Card, or PayPal to make payment. If you opt to use a credit card or PayPal, HOP will send you an invoice, so that we do not need to get any financial information from you. Since fees are associated with each of these transactions, a 4% surcharge is added to cover the fees.
Your Order Form(s) and payment must be returned/postmarked by November 15, 2017 to ensure your order can be fulfilled. You can send it by mail, with a check or a credit card/PayPal request OR email/call Leanna to place your order.

Hope to see you in New Orleans (Nawlins) in 2018!
Laissez les bons temps rouler
(Let the good times roll)


nbsp;
EVENT OFFERINGS & REGISTRATION
SCHEDULE OF EVENTS