The HK House of Peers, in conjunction with Harmony Kingdom, is pleased to announce a special conflagration of PIRATES of the KINGDOM. The dates are April 11-13, 2008-the place is Orlando, Florida- the land of sunshine and a never-ending list of things to do!
Take a look at the EVENTS SCHEDULE and see what is being planned for our Buccaneers, Matey's, and Swabbies! You won't want to miss all the activities that are planned. Details are always being added, some you won't know about until you attend the event, for all others; check here often.

WELCOME RECEPTION
Join early-arriving mates on Wednesday, April 9, for a Welcome Reception hosted by the Harmony Florida Suncoast Collectors Club. The reception will be on the patio, by the pool, at the Crowne Plaza Hotel. HFS will also have some special event pieces for sale during the event or they can be ordered online. Visit our EVENT PIECES page for details. Contact the club president, Janice Cothern, for more details. Her phone is 863-533-6376 or e-mail Janice at [cuzjc@tampabay.rr.com].

HARMONY FLORIDA SUNCOAST COLLECTORS CLUB HOSPITALITY SUITE
A Hospitality Suite, Jolly Roger's Retreat,will be set up for you to mingle with friends, enjoy some refreshments, find others for trading cards, and to sit a spell. The Hospitality Suite is open all weekend (except during opening ceremonies and meal events) with a large living room and full kitchen. Keep an eye out for special surprises from your hostess and coordinator Jessie "Aunt Foda" Pierce from Harmony Florida Suncoast Collectors Club.

OPTIONAL OUTINGS
Our collectors love to enjoy the local offerings with other HK collectors. So, HOP is offering optional activities the day before the convention begins. Three activities have been planned for Thursday, April 10, 2008. They are: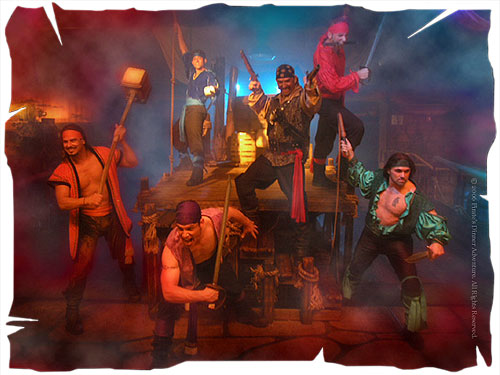 Guests, those who are not registered for the event, are welcome to go with you on any of the optional outings. Visit our OPTIONAL OUTINGS page for details.

ARTIST SIGNINGS
This is a great opportunity to have "Pegleg Pete" sign some of your personal pieces! Peter has asked for quality time with collectors this year to talk about what you like, what you want, or any other subject that you would like. In order to accommodate all collectors, each buccaneer will have a four-minute personal signing time with Peter Calvesbert where you can have up to six (6) pieces signed.
Due to the change requested by Peter, Buccaneers will only have one opportunity to have their six pieces signed. Additional pieces can be signed, for a specified charity donation, during the Raffle of a Lifetime drawings on Sunday morning. The cost is $2 per signature or 3 for $5. Cash or check only! All money goes to the event charities.
A special signing session has just been arranged during the afternoon session on Saturday. Andrea Calvesbert will be available for a two-hour signing session. There is a limit of six (6) pieces per person, per time through the line.

LUCKY DIP
One of our all-time favorite fundraising activities is the Lucky Dip. This helps to offset the costs of the event which also helps to keep the registration fees lower. This highly popular game was introduced to our collectors at Claire de Lune. Hundreds of prizes will be available for you to win with the draw of a ticket. Your changes of winning are approximately 1 in 3.
In order to assist us in obtaining the number of prizes needed, we are looking for donations from our attendees, as well as from our sponsors. We already have the support of Harmony Ball Company as well as dealers and other sources, but your help is also needed. All donors will be recognized in the Event Program. If you would like to donate items for the Lucky Dip, e-mail [registration@houseofpeers.com] or call Janice Cothern at 863-533-6376. Donations, including a packing slip with your name and the package contents, must be shipped to:
IRIS HARBERT
3752 OLD KEYSTONE RD
TARPON SPRINGS FL 34688-7808
and arrive no later than February 15, 2008. Any donations arriving after that date cannot be guaranteed to be recognized in the Event Program.

LUCKY DIP EXCHANGE
This year we have added something new to the activities. People who have attended the previous events know that they can get many prizes throughout the weekend. Some of them may be duplicates or items that are not just what you like. So, we've added an hour on Saturday afternoon for you to bring items that you would like to exchange. There will be easels and tables set up for you to make these exchanges. This is limited to swaps only. No dollars should be exchanged.

SWAP 'N SELL
One of the major activities on Saturday will be the Swap 'n Sell. This year we have made the Swap 'n Sell an all day event. Vendors are welcome to have their table open in the morning, in the afternoon, or all day. This is a great opportunity for collectors, retailers, secondary market dealers, and clubs to buy and sell items and services of interest to HK Collectors. The cost to vendors is still $20 for a 6-foot long, skirted and draped table with two chairs. For questions call Pat Steven at 703-256-3506 or e-mail [registration@houseofpeers.com]. All vendors will be listed in the Event Program, provided registration is received no later than February 15, 2008.

"SLEUTHS MYSTERY DINNER SHOW"
Our Saturday night entertainment is the traveling "Sleuths MysteryDinner Show" with a cast of five actors. In order to enjoy the show, we will begin with a cash bar at 6:00 pm and seating precisely at 6:15 pm. The dinner is open seating. Don't be late!
Our dining experience offers you a choice of three entrées. Vegetarian meals will be provided on request. A special dinner is provided for Swabbies. Your choices are:
Seared Seasoned 8 oz. Center Cut Prime Beef Filet
Seared Boneless, Skinless Chicken Breast Finished with a Rich Marsala Wine and Mushroom Sauce
Pan Seared Atlantic Salmon Finished with a Lemon Beurre Blanc Sauce
Your dinner entrée selection MUST be made in advance. If your selection has not been made, please contact [registration@houseofpeers.com].

LIVE CHARITY AUCTION / RAFFLE OF A LIFETIME
In additionto just having fun, HOP had two major objectives for our convention: provide opportunities for collectors to obtain rare pieces; and to give back to the communities through charitable fundraising. At the same time, we strive to provide these opportunities to one and all, regardless of the depth of your pockets. So, we have two opportunities to obtain rare pieces: the Live Charity Auction and the Raffle of a Lifetime.
As an attendee of the convention, you have an opportunity to participate in the Live Charity Auction on Sunday benefiting NAMI (the National Alliance on Mental Illness). We usually have around 30 special items for the live auction. Checks (payable to NAMI), cash, and Visa/MasterCard will be accepted. Watch for the upcoming list closer to the event!
The Raffle of a Lifetime is an astounding collection of prototype or higher valued items available for you to win the the Raffle. If you purchase a ticket, you will have a one-in-three chance to win. What odds! And, when you do win, you get to pick the prize you want! How much better can it get? Each attendee can purchase only one ticket at a cost of $30. The tickets are available to attendees and can NOW ONLY be purchased >at the convention. The number of prizes available at the raffle usually exceeds 50 prototypes, samples, actual items will come later.

EVENT MERCHANDISE
Event merchandise was available to order until January 31, 2008. Since we will be in sunny Florida, colors reminiscent of the beach were selected to coordinate with colorful beach totes. However, we are pirates and strong red, blue, and black are seen in shirts, as well as a sports bag and backpack.
We have added shirts that are cut for females to the offerings this year. Check out the V-Neck T-Shirts and the women's polo designs. Of course, we still have the traditional sizing in polo's and T-Shirts. Dimensions for many of the sizes have been provided, from the samples we received.
Please remember that we do not order on speculation, but only request what has been pre-ordered before the event. So, if you want event merchandise, please order before our January 31, 2008, deadline.
Please visit our EVENT MERCHANDISE page for details.

SPONSORSHIP
Harmony Kingdom dealers or sponsors have an opportunity to participate in the event. By advertising in the program, making donations for door prizes and fundraisers, and/or contributing to the attendees' Goodie Bag, dealers or sponsors are part of a win-win situation for all. To learn more on how you can support the event, whether with a Program Ad or by being a Basic, Major or Premier sponsor, visit our SPONSORSHIP page for details. Sponsorship registration and donations were due by February 15, 2008.

SPONSORSHIP — WELL WISHER AD
Attendees' registration fees do not cover the total cost of the event, which as to be self-supporting. Part of the success of the weekend will depend on th efundraisers we have to cover these costs. If you would like to do a small part in making it a success, you can offer your well wishes, for the event, with your own personal ad spaces — for only $10. This ad is 1 1/2"h by 2 1/4"w and you can get more than one, if you need more room for your message. Go together with family or friends and have even more fun! Some ideas for what you might put in your Well Wisher ad coud be to just say Hello!, or make a wish, or thank someone, or announce meeting arrangements. Please do not use this option for selling product(s).
All Well Wisher ads will fo into a drawing for a prototype of one of the event figurines. You get one chance for each $10 ad space. Don't miss this chance to have a special prototype. Well Wisher adds were due by February 15, 2008.

EVENT YEARBOOK
Last year we introduced an event yearbook that was a big hit with the attendees. People could put a name to the face, even the MSN board names. If you would like to be included in the Event Yearbook, send a digital picture (with the resolution set for printing) to HOP [registration@houseofpeers.com] along with any little bit of information that you would like shared about yourself. We will include your name, your state, your MSN board name, and other personal information that you wish to share. For photos, contact Registration for an address to mail your picture to. The deadline was March 1, 2008, to be included in the Yearbook.

DRESS CODE
All events are casual dress. However, we do suggest you dress up as a pirate or appropriate character for the Friday night Pirate Conclave, as we will have a Costume Contest for the best dressed buccaneers and lot. So, bring your eye patch and be ready to walk the plank (or the stage, if you wish).

WHO ARE THE PIRATES?
Here's your chance to get to know the artists and the people who made HK into a highly prized collectible. You will also have an exciting time with other HK collectors. Don't miss this event!
For more information,
contact HOP by e-mail at [registration@houseofpeers.com]
or call Pat Steven at 703-256-3506.



PIRATES of the KINGDOM
EVENT DETAILS