Did you miss seeing your collector friends in Rosemont? Did you come back from the Birthday Bash in England and can't wait to see your collector friends again soon? Haven't been to a collector event and don't want to miss this great opportunity?
Philadelphia happened and in a BIG way! The visitors to the Wimberley Mills factory in June saw the event pieces in full production and they were delighted with what they saw. The HOP Committee was in full swing getting the details finalized and the surprises continued to mount.
Harmony Kingdom collectors had opportunities to talk one-on-one with artists Peter Calvesbert and Monique Baldwin. HBC founders attending were Lisa Yashon and Noel Wiggins. Both Pete and Noel brought their families with Andrea and Shoshanna as registered attendees of the convention. Other HBC notables attending were Anna Greashaber, Sandy Auer, and Bobbie Hill. Leanna Barron was available to sign your Harmony Kingdom Reference Guides.
This HOP/HBC 2004 Event began at noon on Friday, October 1st and ended at 1:00 pm on Sunday, October 3rd. As a way of commemorating the site of the event, Philadelphia, as well as the spirit of the country,
the theme for the event is "Let Freedom Ring!"
Peter Calvesbert took his usual, unusual approach to designing and creating the event piece. "Let Freedom Ring!" is comprised of a number of Philadelphia oddities only Peter could have discovered. This event figurine was given to each attendee. Two hundred special color variation figurines were available on a first-come basis to registered attendees. Less than 45 remained as of June 30th. It's an outstanding piece that every collector will want in their collection!
The weekend had a number of offerings to delight the attendees including signing times, a Swap 'n Sell, Hospitality Suite, games and much more. One of the fun activities of the event was a Paint Your Own with each attendee receiving an unpainted version of Catchers in the Rye (Version 2). A neighborhood treasure hunt was featured Friday afternoon. And if you were still in the mood to search for treasure, check out the HK treasures sure to be found at the Friday night room hopping! This, plus a Friday reception, Saturday Murphy Awards Banquet and a Sunday Live Charity Auction Brunch, awaited your pleasure. All for only $199 per person!
The event was held at the Radisson Plaza-Warwick Hotel, located in the heart of Philadelphia's City Center. The HK House of Peers special rate was $117 per night for one/two people. HOP negotiated these special rates to be honored for 3 days prior to the event as well as 3 days after the festivities ended. In addition, the Radisson Plaza-Warwick Hotel is pet friendly!

NEWSFLASH UPDATE - FEBRUARY 12, 2004
NEWSFLASH UPDATE - JULY 29, 2004
NEWSFLASH UPDATE - OCTOBER 7, 2004
NEWSFLASH UPDATE - DECEMBER 12, 2004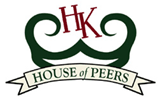 © 1999-2019 HK House of Peers. All rights reserved.