The HK House of Peers offered you the opportunity to win a rare prototype of Cowboy Boots. The funds raised in this auction will be used to support HOP's activities on behalf of the Independent HK Collector Clubs.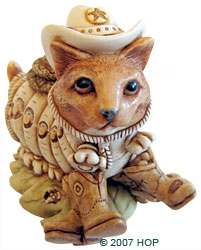 Cowboy Boots Prototype


Cowboy Boots was available to collectors who attended the HK CORRAL collector event held in Phoenix, Arizona, in October 2006. The total edition size for the event piece was only 225. Only six (6) pieces exist of this prototype. There were five copies made of this version, that were used as special prizes at the convention, plus the prototype submitted to HOP for approval.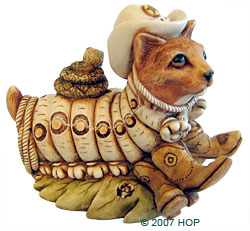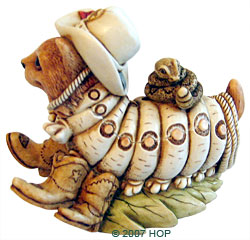 Cowboy Boots Prototype

This piece was carved by Master Carver Peter Calvesbert especially for the HK CORRAL event. This Cat-R-Pillar has gotten into the spirit of the Arizona event! He is wearing a Stetson hat—complete with an arrow through it—and he is carrying a lariat. His boots are mis-matched; the pair on his left are decorated with stars on the outside and a star and a cross on the inside, while the pair on his right have an "X" and an "O" on the outside, and a "P" and "C" on the inside. There's even a rattlesnake coiled on his back! Pete's signature mouse is hiding in the leaf at the base of the figurine, hoping the snake won't notice.
Cowboy Boots Prototype

(boots - left pair)

(boots - right pair)
Cowboy Boots Prototype
Inside Cowboy Boots is Pete himself, proudly displaying the HK CORRAL event logo. Peter has signed and dated the base.
| | |
| --- | --- |
| Cowboy Boots Prototype Interior | Cowboy Boots Prototype Base |
The piece in this auction is an intermediate version—one further change was made before the event. In recognition of all their hard work the piece that was released at the event had the initials of the HOP Board of Directors responsible for planning the Philadelphia, Seattle, and Phoenix events engraved on the leaf. This prototype does not have the initials—and that makes it a very rare piece indeed!
This rare piece would make a wonderful addition to any collection. With your winning bid, you support HOP's activities on behalf of all the Independent HK Collector Clubs. So mosey on over and place your bid, partner!

This auction was held on


and ended Sunday, November 4, 2007
raising $301.00 for HOP


Harmony Kingdom Cowboy Boots Prototype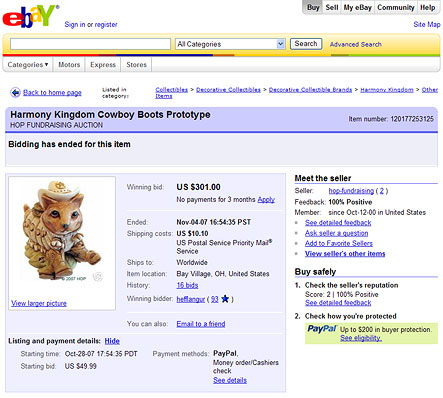 Thank You!

'hefflangur'