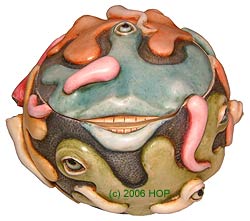 Perryalism Prototype

The HK House of Peers and Harmony Kingdom offered you the opportunity to win an extremely rare box figurine prototype of Perryalism, a Harmony Kingdom Treasure Jest, created by Martin Perry.

This particular piece was personally hand-painted by none other than the former Artistic Director of Harmony Kingdom, Martin Perry! Produced at Wimberley Mills in England, this prototype has the same dimensions as the production box: 3.5" wide x 3.5" deep x 2.5" high.

Perryalism (TJLES04MP) was issued as a limited edition of 600 pieces worldwide. This was part of the Signature Series released in February 2004. The edition is sold out.
Perryalism HK Secrets:

Martin Perry is more than the Artistic Director for Harmony Kingdom. He is also an established painter of abstracts. Martin's paintings feature bold colors, strong shapes and expressive eyes. To Martin, the eyes represent consciousness and life. This box figurine features the same wonderful qualities, transferred from flat canvas to three-dimensional sculpture. Signed and numbered by the artist.


Perryalism Production Box


Perryalism Prototype

In parallel with Martin's reputation for painting with 'bold colors' this Perryalism prototype stands alone. The staining of the general release was quite muted, and as one can see from the pictures, this piece truly represents the type of coloring for which Martin is well known. It is this specific coloration that makes this piece so special. Even the ear on the inside of this piece bears incredible color in comparison to the original released version.

For any Harmony Kingdom collector that "eyes" abstract work with much appreciation and enthusiasm, this Perryalism prototype is a must for your collection. The fact that Martin Perry has hand-painted this box only adds to the sentimental value, to you, the collector.


There are no hallmarks on this piece.

Perryalism Prototype Interior


The base is marked MARTIN BOX 2.

Perryalism Prototype Base
MARTIN BOX 2 on the base refers to this being the second in a series of concepts that Martin had created in this abstract form. The first, as seen here, has the same type of coloring that is seen with this prototype, but was never released.

Concept Prototype #1

This auction was held on


and ended June 11, 2006
raising $416.00 for HOP


HARMONY KINGDOM PERRYALISM PROTOTYPE!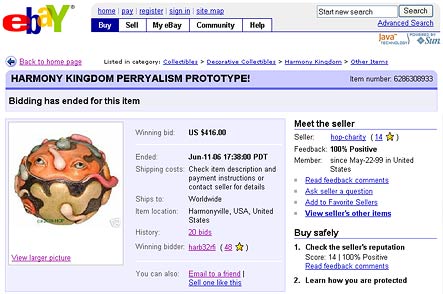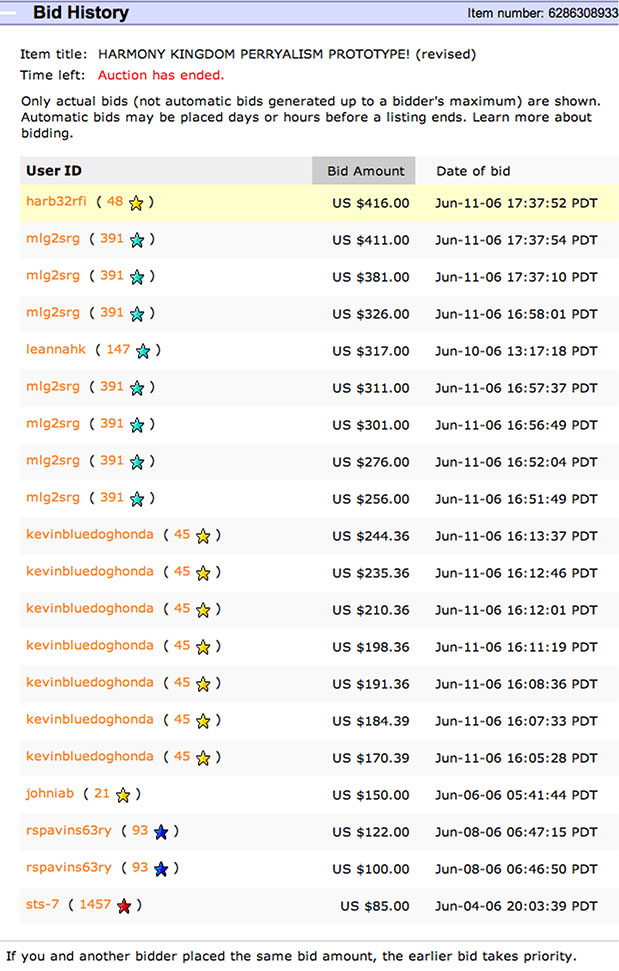 There was no reserve on this auction. The HK House of Peers will use the funds raised in this auction to assist the independent HK collector clubs and to support national collector events.
Thank You!

'harb32rfi'