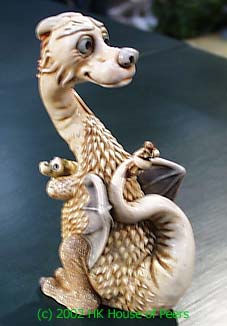 Tamira's Treasure Prototype

The HK House of Peers and Harmony Kingdom offered you the opportunity to own this prototype of the Limited Edition Tamira's Treasure, carved by Harmony Kingdom Master Carver Peter Calvesbert and produced at England's Wimberley Mills.
Tamira's Treasure, the first in a series of mythological creatures from Harmony Kingdom, has a connection to the year 2002 Royal Watch Collector's Club theme of "Rule Britannia." Saint George is the patron saint of England, and the story everyone knows about Saint George is that he slew a fearsome dragon. Dragons mean many different things to different cultures, but in the West dragons traditionally get bad press. When Master Carver Peter Calvesbert imagined his dragon, this friendly face came to mind. Although benevolent, the mythological beast still wields great power, as evidenced by the prototype with the self-portrait of Peter firmly clamped between wing and tail. The production version is pictured on the right. The inspiration for the baby dragon came from Peter's first child, Samuel Frederick. This proud parent is a solid bodied figurine, and not a box.

Tamira's Treasure Prototype
(close-up of Peter clutched in tail)

The prototype drawing was held on Sunday during the International Gift & Collectible Exposition in Rosemont, Illinois. The lucky winner, LaVerne Thompson, is shown here with Peter Calvesbert and the Tamira's Treasure prototype.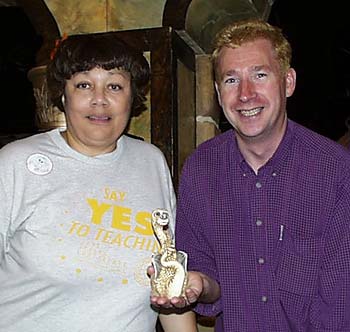 LaVerne Thompson with Peter Calvesbert
and the Tamira's Treasure Prototype

The raffle generated $1,540. The HK House of Peers will use the funds raised in this auction to assist the independent HK collector clubs and to support national collector events.