Auction Details:
There is no reserve on this auction.
The winning bidder must send a money order or bank draft (in U.S. dollars) payable to HK House of Peers, for the amount of the winning bid, plus shipping and insurance. The cost of shipping and insurance will be based on the location of the winning bidder. Personal checks cannot be accepted.
The item will be shipped to the winning bidder within two-three business days of receipt of payment.
If you have any questions about this auction, e-mail the [HOP Fund Raising Coordinator] before bidding.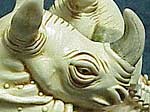 Good Luck!
---
Questions about this auction or any HOP Fund Raising event should be directed to the [HOP Fund Raising Coordinator].