NEWSFLASH - OCTOBER 9, 2000
Harmony Kingdom - Nose Bleed Prototype Auction ended October 22, 2000

| | |
| --- | --- |
| The HK House of Peers and Harmony Kingdom offered you the opportunity to own this solid prototype of Nose Bleed, the third in the popular Black Box series. Master Carver Peter Calvesbert created this fantasy of two rhinoceros' revenge on humans who hunt them for their horns, which are believed to have medicinal properties. The rhinos take their revenge by harvesting human noses. It looks like they found a prime "speciman" in Peter! | Nose Bleed Solid-Body Prototype |

Nose Bleed Solid-Body Prototype

This is a completely solid prototype, made during an early stage of the design and production process. There are minor mold differences from the version that was released:

The base is larger, painted dark gray, and does not include the names of the remaining rhino species.

The clock face that appears near the vulture's head on the final version is missing on this prototype.

There are no hallmarks.

Martin Perry, artistic director and co-founder of Harmony Kingdom, personally painted this piece. As a result, there are a number of paint variations. Note the copious amount of blood near Peter's head (below top) and the extra detail on the vulture's head (below middle). The piece is signed and dated by Martin Perry (below bottom).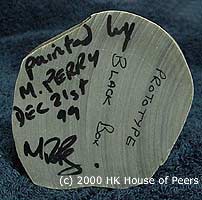 This auction was held on


and started October 15, and ended October 22, 2000
raising $998.88 for HOP


Harmony Kingdom Nose Bleed Prototype Auction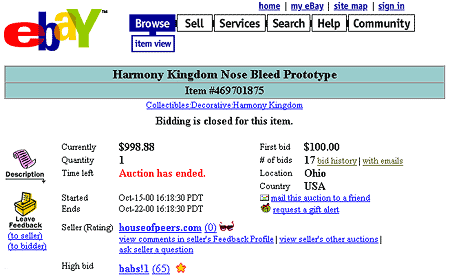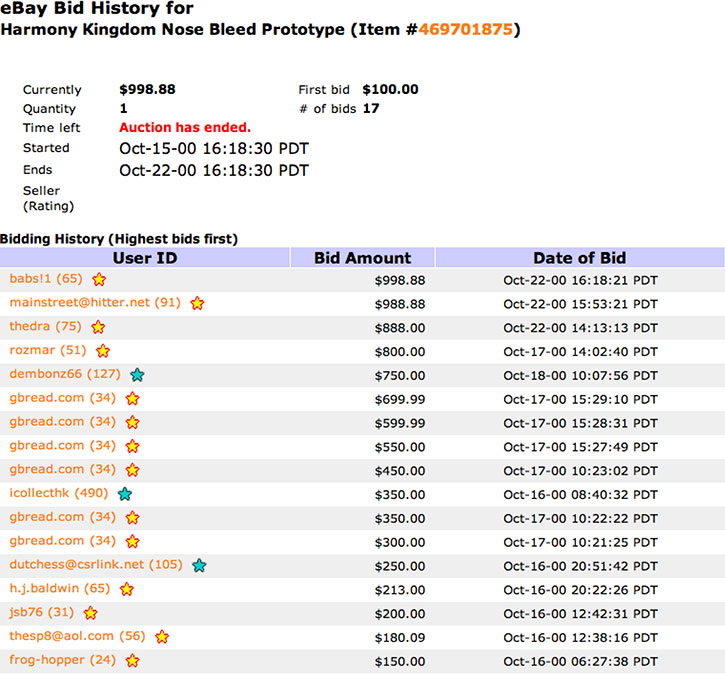 The HK House of Peers will use the funds raised in this auction to assist the independent HK collector clubs and to support national collector events.

Auction Details:
There was no reserve on this auction.
Thank you! 'babs!1'

with just 9 seconds to spare!