Harmony Kingdom UK Ltd and the HK House of Peers
Harmony Kingdom Reunion – October 25, 2014 in Las Vegas, Nevada
(Photos may represent prototypes of the figurines. The final versions may differ.)

EVENT PIECES
Peter Calvesbert carved High Rollers as the event box figurine. This piece will be given to all Collectors registered for the event. This is a tribute to many things that are well known in Las Vegas; from the white tigers seen at Mirage, to the original Rat Pack (Frank Sinatra, Dean Martin, etc.), plus everything else since... from all the famous people on stage, to The Big Apple Coaster at New York—New York, where the cars depict taxis.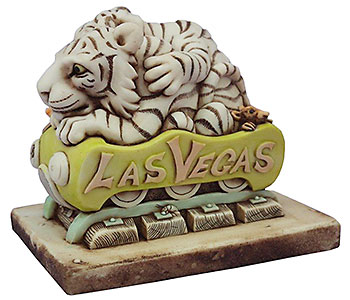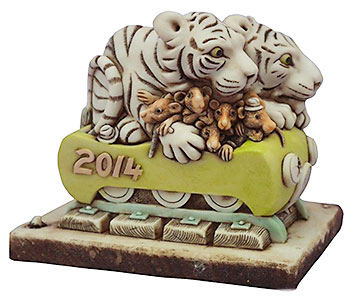 High Rollers

High Rollers II is a color variation version with the roller coaster car painted pink and has a different interior. All attendees (Collector or Associate) have the right to purchase any number of Version 2 boxes desired at a cost of $75 each.

PENDANTS
Meet Penniless Pete
"Early Bird" Slotty Andrea

The personal "Pete" fundraiser pendant this year is Penniless Pete. Pete is perched on his favorite seat and ready to feed his coins into Slotty Andrea. He's praying for a payout so that he can get back home. Every attendee (Collector or Associate) can order as many Penniless Pete pendants as desired. The cost is $25 each. You must pay in advance and you will receive your piece(s) at registration.

As a Thank You to us for helping support his family, Peter is giving a special color version of the pendant to eight (8) lucky purchasers. The drawings will be held Saturday afternoon during the raffle drawings.

All you "Early Bird" Collectors (registered before May 1st) will enjoy the pendant, Slotty Andrea, that has Pete in a frenzy trying his luck. As usual Pete does not depict Andrea as the beautiful lady she is, but you can see how drawn he is to her charms.

"Early Bird" Collectors will receive one Andrea pendant in their registration package. However, we know that many of you want to have a matching Andrea for each of your Pete pendants, so only "Early Bird" Collectors can order more Slotty Andrea pendants. The cost is $25 each. You must pay in advance and you will receive your piece(s) at registration.
For more information,
contact Leanna Barron by e-mail at [leannabarron@gmail.com]
or call Pat Steven at 703-256-3506.

HIGH ROLLERS HARMONY KINGDOM REUNION
EVENT PIECES