Do you remember Potty Time? A kitten is playing in the "potty." Another kitten on top is curious and as he leans forward to watch, he accidentally flushes the toilet. This was the winning entry submitted by Robin Davis in the first Design A Jest Contest. She won her very own Potty Time prototype!
Once again we are looking for all of those great ideas you have for a Harmony Kingdom Box Figurine. Do you have something you would like to suggest to the artist? Here's your second chance! At the same time, you can enter HOP's January Raffle with a chance to win the prototype Planet Paradise. The House of Peers and Harmony Kingdom are sponsoring a Design A Jest Contest and a Raffle to benefit NAMI (National Alliance for the Mentally Ill). Both contests are open to all Royal Watch members (except for employees of HBC, HI or HK).
You don't have to be an artist to enter the Design A Jest Contest - all you need to do is describe your idea. The more details you give, the better your chances. You then send in as many designs as you like. Eighty seven creative designs were submitted by 49 people in the last contest. One inspired person sent in nine box ideas! Let's see if we can top those numbers in this new Design A Jest Contest. Put your creative thinking caps on now and start formulating those ideas!
The entry fee of $5 US (£3 UK or $7 CAN) is required for each design submission. To enter the Design A Jest Contest, view the complete official [Contest Rules] and [Entry Form]. The HK House of Peers must receive your mailed entries by March 31, 2004.
The winner of the Design A Jest Contest will be announced at the Let Freedom Ring! event in October 2004. Judging of the Contest will be "blind" (i.e. the judges will not know who submitted which entry) and will be done in two stages. First, a panel of HOP Delegates and Alternates will select 12 semi-finalists. Then, the artistic team of HBC/HI/HK will select the winner from among the semi-finalists. There is no guarantee that the winning idea will be made into a box that is actually produced, but you never know! The winner of the Design A Jest Contest will receive either a prototype Treasure Jest - one based on the winning idea or an alternate prototype selected by HBC/HI/HK. (Please note: all entries become the property of Harmony Kingdom Worldwide.)
For each design entry, you will also receive a ticket for the Raffle. If your design does not meet the requirements, it will not be considered for production, but you will still be entered into the Raffle.
Everyone may enter the Raffle. Tickets are the same price as the Design A Jest entries ($5 US or £3 UK or $7 CAN each) and there is no limit to the number of tickets you may purchase. The winner of the Raffle will be drawn at the Harmony Ball Company office by April 15, 2004. The lucky winner will receive a prototype of Planet Paradise with three lids of different colors (pink, red and blue).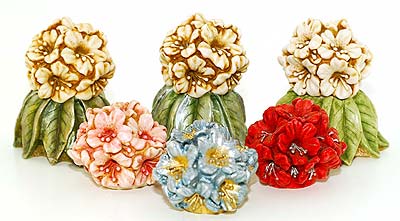 Planet Paradise Prototype
To enter the Raffle only, make your check payable to NAMI and mail to:
HK House of Peers
PO Box 2718
Dearborn, MI 48123-2718
(Enclose a self-addressed, stamped envelope if you want your ticket stubs returned.)
To obtain a copy of the official [Design A Jest Contest Rules] and [Entry Form], send a self-addressed, stamped envelope to the HK House of Peers address above.
Once again the collectors have an opportunity to let their ideas be known. Best of Luck!