The HK House of Peers is pleased to announce this wonderful unframed oil painting on canvas, by British figurative artist Evelyn Williams, titled New Baby. The painting measures 10" x 12", with the canvas stretched over a wood frame. The painting and a coffee table book—Evelyn Williams Works and Words, filled with more of the artists' work, have been donated by Harmony Kingdom's Lisa Yashon and Noel Wiggins. The painting and book, as a package, are valued at $3,000 and was raffled to benefit our national charity—NAMI (National Alliance on Mental Illness).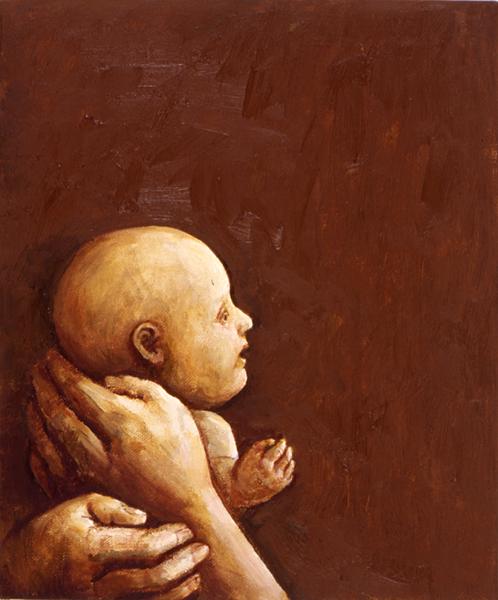 Evelyn Williams' work is concerned with the subtleties and complexities of relationships, intimacy, and profound communion between others and infants, between lovers and strangers. She says in the book of ninety drawings, sculptures, and paintings,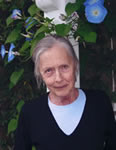 "Is there a disease that manifests itself in a person taking upon themselves the suffering of others? I believe I have this disease—it is at the very centre of my work." Ms. Williams is now in her eighties, but is still an active artist and had an exhibition at the Martin Tinney Gallery in Cardiff, Wales, earlier this year. Evelyn Williams is Martin Perry's aunt. You can find more about her at [www.evelynwilliams.com].
HOP held a special raffle exclusively for this package offer. The drawing took place on Sunday, June 26, 2011, during the Grand Finale Breakfast at the Fire & ICE event in Skokie, Illinois. The raffle was open to everyone and you need not be present to win. Tickets were $10 each and payment must be by check, made out to NAMI. Mail orders for tickets must be received by June 15, 2011, in order to ensure they are entered in the drawing. Tickets may also be purchased during the event at HOP Central.
Due to the high value of the painting, the donors have stipulated that a minimum of $1,000 must be raised in the raffle. In the unlikely event that less than 100 tickets are sold, the raffle will be canceled and the money will be returned. Please make sure your complete mailing address is on the order form.
With your help, NAMI can continue its work as America's largest grassroots mental health organization dedicated to improving the lives of individuals and families affected by mental illness. For more information on NAMI, go to [www.nami.org].
This drawing took place on Sunday, June 26, 2011, during the Grand Finale Breakfast at the Fire & ICE event in Skokie, Illinois. Pat Steven was the winner of this raffle. Through her generosity, she gave this painting to Peter Calvesbert.