On Wednesday, April 18th, Jo Ann Mousley Murdoch passed away unexpectedly due to a chronic health condition, while traveling. She was an avid Harmony Kingdom collector and scheduled to attend the HK Mardi Gras event in New Orleans.
The HK House of Peers announced that a Silent Auction, fundraiser for charity, was held in her honor. This included a full set of the figurines available for attendees at the HK Mardi Gras event. Since Jo Ann was not able to attend the event, Peter and Andrea Calvesbert are including Potato Pete in the auction. Andrea also said, "We will be able to cover the cost of postage to the highest bidder, whether that be USA, UK, or anywhere else."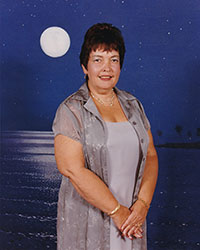 Jo Ann's son decided to donate her HK Mardi Gras set to help the Florida Baptist Children's Homes in Lakeland, Florida. The auction winner sends a check to the charity.

The set includes (left to right): Potato Pete, Mardi Gras Pete, Gambolling Gators Ver. 1 & Ver. 2, Faithful Followers, and the unpainted Paint-Your-Own Texas Speed Bump.
This Silent Auction was managed by Leanna Barron. The deadline for final bids was Mother's Day, Sunday, April 13, 2018. The winner, Leo Majerus, with a donation of $600, was announced on the Facebook Harmony Kingdom Collectibles group page.
We believe Jo Ann would be pleased that the Florida Baptist Children's Homes has benefited, as she had personally donated to them over the years.