HK HOUSE OF PEERS - BYLAWS

HK HOUSE OF PEERS
BYLAWS
February 29, 2000 Amendment
[Original text to be removed is indicated in bracketed blue italics,
changes are indicated in underlined red.]
ARTICLE IV – OFFICERS
Section 2 – Election of Officers.
Section 2.3 – Term of Office. Officers shall serve for a term of two (2) years [beginning July 1st], excluding the first fiscal year of operation (1999), where officers shall serve for one (1) year, or until their successors are elected and installed. In order to ensure that there is continuity on the Board, the terms will be staggered so that no more than three officers will be elected in any one year. To accomplish this, in the [first] second year of operation ([1999] 2000) the President, Secretary, and Member-at-Large are elected to a two-year term and the Vice President and Treasurer are elected to a one-year term.

_________________________________
Iris Harbert, President HK House of Peers

Amendment adopted February 29, 2000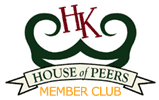 This logo is only available for use by a HOP Independent Club.
Please request permission using the email address below.
© 1999-2019 HK House of Peers. All rights reserved.