The HK House of Peers and Harmony Kingdom offered you them opportunity to win an extremely rare box figurine artist proof of Rule Britannia, a Royal Watch Collector's Club gift, carved by Master Carver Peter Calvesbert. At the same time you would be assisting NAMI (National Alliance on Mental Illness), a grass roots organization dedicated to the eradication of mental illnesses and to the improvement of the quality of life for all whose lives are affected by these diseases.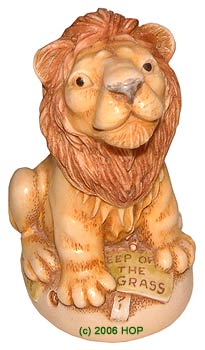 Rule Britannia Artist Proof
Carved by Master Carver Peter Calvesbert, Rule Britannia, a box figurine, was produced as a club gift for 2002 members of the Royal Watch Collector's Club. The Rule Britannia offered here is an artist proof, made at Wimberley Mills in England.

Released in January 2002, Rule Britannia (RW02LI) had an edition size of 7,841 pieces worldwide. It was retired on March 31, 2003.

Up for bidding is a special Peter Calvesbert artist proof of the regal lion Rule Britannia. This piece was part of the Royal Watch 2002 Collector's Club kit.

Rule Britannia Artist Proof
The secrets of the box are part of Peter's childhood memories. The names along the base: Parsley, Lenny, and Clarence are all lions that were part of Peter's childhood experience.

"Parsley the Lion" was featured in an animated children's television series (1968–1972) called 'The Herbs.' "Lenny the Lion" was an animal puppet manned by ventriloquist Terry Hall, featured on 'The Lenny The Lion Show' on BBC television (1956–1963). Clarence was a cross-eyed lion in both a film ("Clarence the Cross-Eyed Lion," 1965) and a television series (1966–1969) called 'Daktari.'

Rule Britannia Artist Proof
This box has the same dimensions as the released version: 1.4" x 2.2" x 2.5". Hallmarks include PC, ©, HBC logo, and a happy face. The difference as you can see from the photos is that the lion is stained in a goldish-tan hue, much closer in tone to an actual lion. The released version was a much lighter, almost whitish coloration. The piece was personally stained by none otherm than Martin Perry.

Rule Britannia Artist Proof
The "KEEP OFF THE GRASS" sign which the lion has defiantly sat on could have two meanings. 'Grass' could mean lawn or it could mean marijuana, you decide... hence the question mark.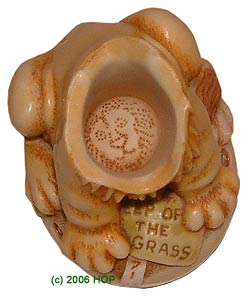 Rule Britannia Artist Proof Interior

Peter's infamous mouse (top image) is hiding above the "KEEP OFF THE GRASS" placard to the inside of the lion's left leg. The base is marked Artist Proof. and is signed by Martin Perry.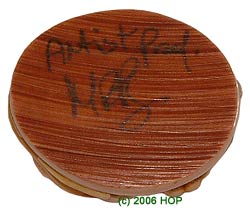 Rule Britannia Artist Proof Base

If you have a desire for a Peter Calvesbert artist proof, then this is definitely a unique piece to bid on. And, remember that with your winning bid you are supporting the efforts of NAMI, in their quest to help those in need.

This auction was held on


and ended September 24, 2006
raising $184.50 for NAMI


Harmony Kingdom Rule Britannia - Artist Proof!!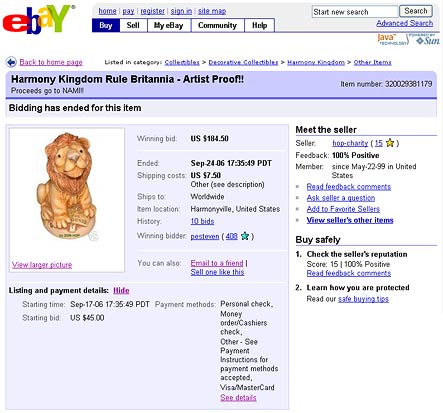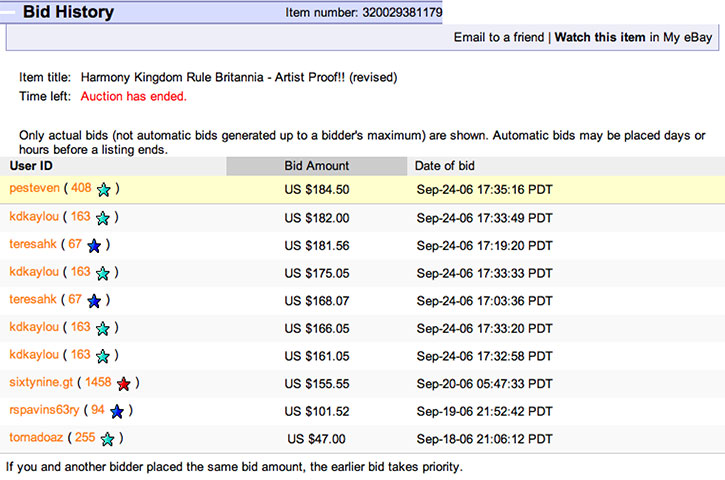 This eBay Auction was a charity auction sponsored by the HK House of Peers to benefit NAMI.
NAMI (National Alliance on Mental Illness) is the nation's largest grassroots mental health organization dedicated to improving the lives of persons living with serious mental illness (major depression, bipolar disorder, schizophrenia, obsessive-compulsive disorder, and anxiety disorders) and their families. Founded in 1979, NAMI has become the nation's voice on mental illness, a national organization including NAMI organizations in every state and in over 1,100 local communities across the country who join together to meet the NAMI mission through advocacy, research, support, and education.

Thank You!

'pesteven'