The HK House of Peers and Harmony Kingdom offered you the opportunity to win an extremely rare box figurine prototype - an unreleased 'Golden Poppy,' a proposed Lord Byron's Harmony Garden piece. At the same time you would be assisting NAMI (National Alliance on Mental Illness), a grass roots organization dedicated to the eradication of mental illnesses and to the improvement of the quality of life for all whose lives are affected by these diseases.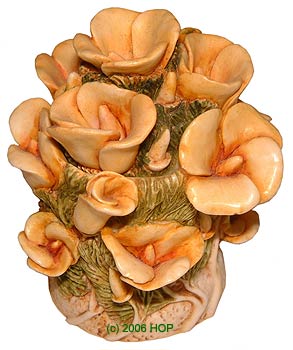 'Golden Poppy' Prototype

Designed and carved for Chapter V of Lord Byron's Harmony Garden, his 'Golden Poppy' was never produced. The prototype measures approximately 2.88" wide x 2.63" high.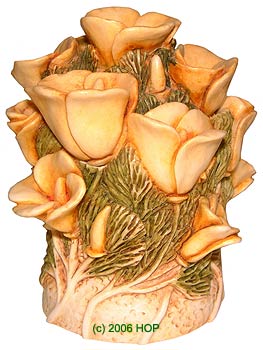 'Golden Poppy' Prototype

For those that love Lord Byron's Harmony Garden series, the unreleased 'Golden Poppy' flower box is a must. This piece was originally planned for Lord Byron's Harmony Garden Chapter V and is so marked on the base, along with the prototype # 002. However it became a "misplaced bloom" when reviewed for production. This glorious box was larger and more complicated than the other flowers in the Chapter V series: Carnation, Daisy II, Hibiscus, Iris II, Lily, Rose, and Sunflower III.

This grouping had been created in answer to comments from collectors and dealers that the previous series pieces were becoming too large and ornate. To give it even less of a lease on life, it became apparent that it would not fit in with the Chapter VI group either. Also, at that time Harmony Kingdom moved production of the boxes back to England. Martin said that he could only do very simple and small flowers if they were made in England. So, the fate of this wonderful creation was sealed, since it was now far too expensive to be placed into production, and was again shelved for a possible future release.

Even though the story is a bit sad, it only makes it more desirable for the collector. This piece, as you can see from the pictures is beautifully carved and painted. The yellow and golden tones are enhanced by the green feathery leaves of the poppies. The box is delicately carved and done with such intricacies, that the piece could easily stand alone.



'Golden Poppy' Prototype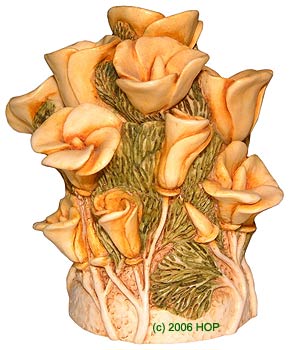 'Golden Poppy' Prototype

The interior shows Lord Byron with a friend and his usual briefcase and guitar. There is no story line, but if you are the lucky auction winner...you can create your own. There are no hallmarks on the box.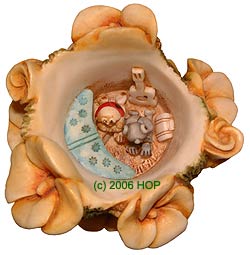 'Golden Poppy' Prototype Interior

The base is marked GOLDEN POPPY # 001 HG . CHAPT. V.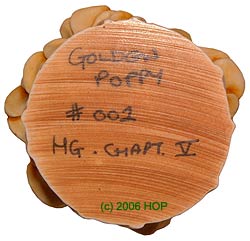 'Golden Poppy' Prototype Base

So, if you feel that this special piece would find a happy home with the rest of your collection, please bid. With your winning bid you support the efforts of NAMI, in their quest to help those less fortunate.

This auction was held on


and ended April 30, 2006
raising $605.00 for NAMI


Harmony Kingdom UNRELEASED Golden Poppy - Charity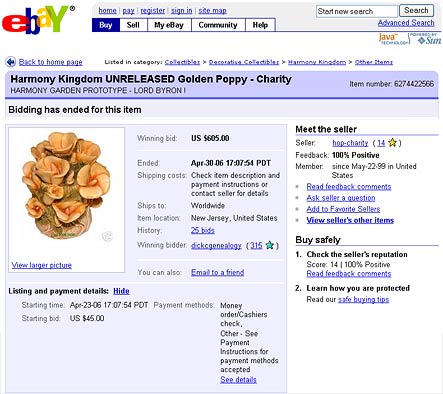 This eBay Auction was a charity auction sponsored by the HK House of Peers to benefit NAMI.
NAMI (National Alliance on Mental Illness) is the nation's largest grassroots mental health organization dedicated to improving the lives of persons living with serious mental illness (major depression, bipolar disorder, schizophrenia, obsessive-compulsive disorder, and anxiety disorders) and their families. Founded in 1979, NAMI has become the nation's voice on mental illness, a national organization including NAMI organizations in every state and in over 1,100 local communities across the country who join together to meet the NAMI mission through advocacy, research, support, and education.

Thank You!

'dickcgenealogy'