The HK House of Peers and Harmony Kingdom offered you the opportunity to win an extremely rare box figurine prototype of Greenman's Grove, a Harmony Kingdom Treasure Jest, carved by Master Carver Mel Heald. At the same time you would be assisting NAMI (National Alliance on Mental Illness), a grass roots organization dedicated to the eradication of mental illnesses and to the improvement of the quality of life for all whose lives are affected by these diseases.
Greenman's Grove Prototype

Carved by Master Carver Mel Heald, Greenman's Grove was produced as a small Treasure Jest box figurine. The Greenman's Grove offered here is a prototype, made at Wimberley Mills in England.
Greenman's Grove (TJMYGM) was issued as a fixed edition of 2,500 pieces worldwide, in the fall of 2003. It has been retired.

Greenman's Grove HK Secrets:
(Production Box)

The Green Man, a face surrounded by leaves, is an ancient symbol. In different ages and different countries he has represented nature gods, ancestral faces, the Lord of Greenwood, a forest demon, or wild man. Here the Green Man is shown as a protective spirit of the forest, gathering all the birds, animals, and even fairies beneath his sheltering boughs. On the inside of the box figurine is an acorn cap. Acorns symbolize life, rebirth and immortality.


Greenman's Grove Prototype

Up for bidding we have a special Greenman's Grove by Mel Heald. This small Treasure Jest is a one of a kind prototype. When you compare the production version from your collection with these pictures, you will see why this piece is so very special.
All of the animals are beautifully painted in a reddish brown stain. The frog near the base and the bird on the Greenman's head are distinctively painted green. Even the fairies' wings, rocks, mushrooms, and branches are stained in a much darker coloring than the original production version. The face takes on an even more fatherly and protector type look with the use of this technique.

Greenman's Grove Prototype
In addition to the beautiful coloring there are other differences. The production piece has an acorn cap inside the box, while this is empty. There are no hallmarks on this piece. The base is marked NOT COLOR SAMPLE.
| | |
| --- | --- |
| Greenman's Grove Prototype Interior | Greenman's Grove Prototype Base |
All in all this piece is much closer in its coloring to the picture of the Greenman's Grove from the Harmony Kingdom website. If you love the Greenman, this is a must have for your collection. With your winning bid you support the efforts of NAMI<, in their quest to help those persons living with serious mental illness.

This auction was held on


and ended March 26, 2006
raising $330.00 for NAMI


Harmony Kingdom Greenman's Grove Prototype - Charity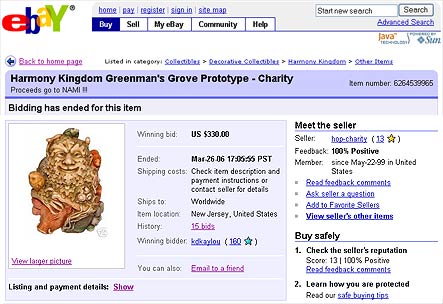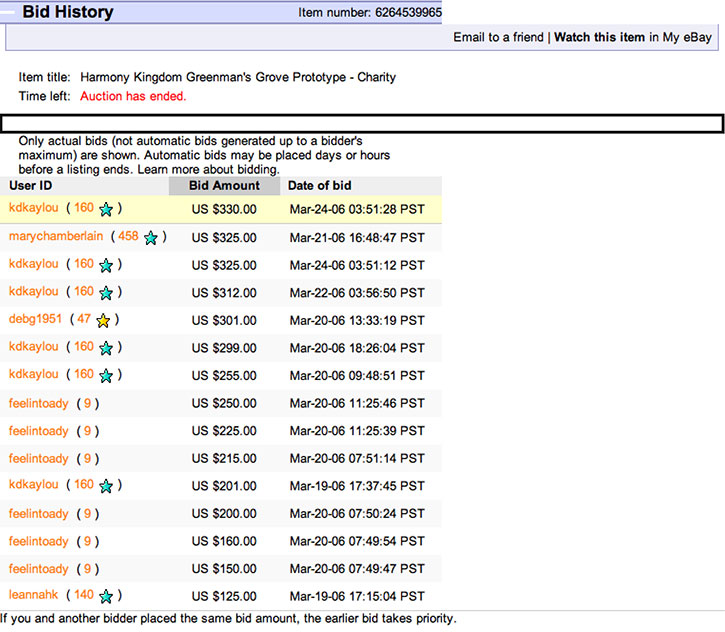 This eBay Auction was a charity auction sponsored by the HK House of Peers to benefit NAMI.
NAMI (National Alliance on Mental Illness) is the nation's largest grassroots mental health organization dedicated to improving the lives of persons living with serious mental illness (major depression, bipolar disorder, schizophrenia, obsessive-compulsive disorder, and anxiety disorders) and their families. Founded in 1979, NAMI has become the nation's voice on mental illness, a national organization including NAMI organizations in every state and in over 1,100 local communities across the country who join together to meet the NAMI mission through advocacy, research, support, and education.

Thank You!

'kdkaylou'