The HK House of Peers and Harmony Kingdom offered you the opportunity to win an extremely rare box figurine prototype of Rookery Rave, carved by Master Carver Peter Calvesbert. At the same time you would be assisting NAMI (National Alliance for the Mentally Ill), a grass roots organization dedicated to the eradication of mental illnesses and to the improvement of the quality of life of all whose lives are affected by these diseases. All proceeds from this auction will be donated to NAMI in the winners name.

Rookery Rave Prototype

Rookery Rave was produced as a box figurine in the Small Treasure Jest Collection. Carved in England, Rookery Rave was made at Wimberley Mills in England.
Carved in 2003 by Master Carver Peter Calvesbert, Rookery Rave was issued as a fixed edition of 2,500 pieces worldwide in the spring of 2004. It measures approximately 3.3" x 3" x 2.5".
Rookery Rave HK Secrets: (Production Box)

A group of chinstrap penguins encircles their prey. Squid, fish - and even Peter's mouse - are caught in the whirlpool. On the interior, a colony of penguins surrounds an egg, arguing over who should be sitting on it.


Rookery Rave Prototype
This prototype is very detailed and a well-painted piece.

Rookery Rave Prototype
| | |
| --- | --- |
| Rookery Rave Prototype Lid | Rookery Rave Prototype Lid Base |

The lid has the four hallmarks around its lower edge. However, the Crown Stamp is not on the base of the lid, it is blank. There is no label on the bottom of the base. Instead, written by hand, on the base is: TJ BABY PENGUINS P #001.
| | |
| --- | --- |
| Rookery Rave Prototype Interior | Rookery Rave Prototype Base |

Please do not miss out on this great opportunity to add this beautiful and rare piece to your collection! You will not only bring joy to yourself, but you will help bring joy to those who NAMI supports.

This auction was held on


and ended April 17, 2005
raising $351.99 for NAMI


Harmony Kingdom ROOKERY RAVE Proto-CHARITY AUCT 4 NAMI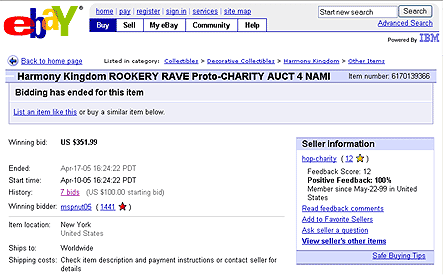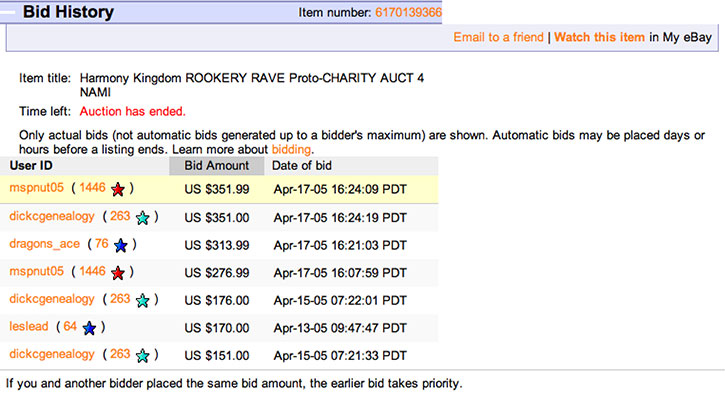 This eBay Auction was a charity auction sponsored by the HK House of Peers to benefit NAMI.
NAMI is the nation's leading grassroots organization solely dedicated to improving the lives of persons with severe mental illnesses (major depression, bipolar disorder, schizophrenia, obsessive-compulsive disorder, and anxiety disorders). Their efforts focus on support to persons with serious mental illnesses and to their families. They advocate non-discriminatory and equitable federal and state policies; increased research funding into the causes, symptoms, and treatments for mental illness; and education to eliminate the pervasive stigma toward severe mental illness. Through advocacy and education, NAMI translates biomedical research advances into effective treatment and services for individuals with serious mental illness.

Thank You!

'mspnut05'