The HK House of Peers and Harmony Kingdom offered you the opportunity to win an extremely rare figurine box prototype of Pond Pleasure, a Harmony Kingdom Covet, carved by Master Carver Monique Baldwin. At the same time you would be assisting NAMI (National Alliance for the Mentally Ill), a grass roots organization dedicated to eradicating mental illness and improving the quality of life for those affected by these diseases.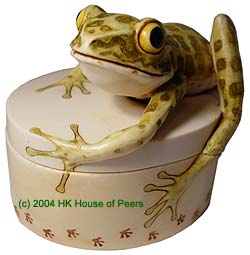 Pond Pleasure Prototype

Carved by Master Carver Monique Baldwin, Pond Pleasure was produced as a figurine box Harmony Kingdom Covet. The Pond Pleasure offered here is the first prototype produced, made at Wimberley Mills in England. Approximately five prototypes exist.

Pond Pleasure was issued in a two version fixed edition of 5,000 pieces worldwide in the fall of 2003.


Pond Pleasure Prototype

Pond Pleasure HK Secrets:
(Production Box)

Harmony Kingdom Covets are useful and handsome figurine boxes. Covets feature an artistic innovation: the combination of etching with three-dimensional sculpture. Version One differs from Version Two with a color variation. "Pond Pleasure" is a frog, sitting up in his watery home. The interior shows a fish, partially etched and partially sculpted, with room enough to conceal special treasures.


Pond Pleasure Prototype
The carving detail on this prototype Pond Pleasure is wonderful! From the tips of his little toes, to his beautiful expressive face, this little fellow is quite the charmer. He will steal your heart!


Pond Pleasure Prototype
This prototype differs in several ways from the final production piece. the frog on the prototype does not include the ladybug by his right leg. There is no notch on the lid, nor is there a receiving groove for it on the box bottom. The Crown Stamp hallmark is not present on the piece, however the remaining hallmarks are stamped into the side of the lid base.


Pond Pleasure Prototype
The interior is missing the etched/sculpted fish as in the production piece. On this Pond Pleasure prototype a frog has been etched into the interior side of the box.


Pond Pleasure Prototype Interior
The base is marked FIGURINE BOX FROG # 001.


Pond Pleasure Prototype Base
Please do not miss out on this great opportunity to add a very rare and very special piece to your collection! You will not only bring joy to yourself, but you will help bring joy to those who NAMI supports.

This auction was held on


and ended June 6, 2004
raising $152.50 for NAMI


Harmony Kingdom POND PLEASURE Prototype 4 Charity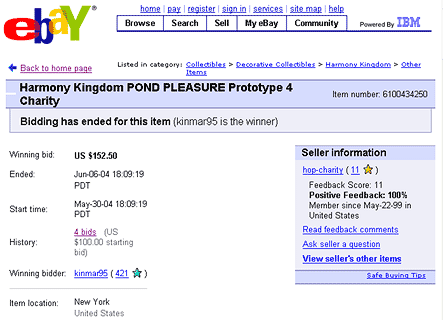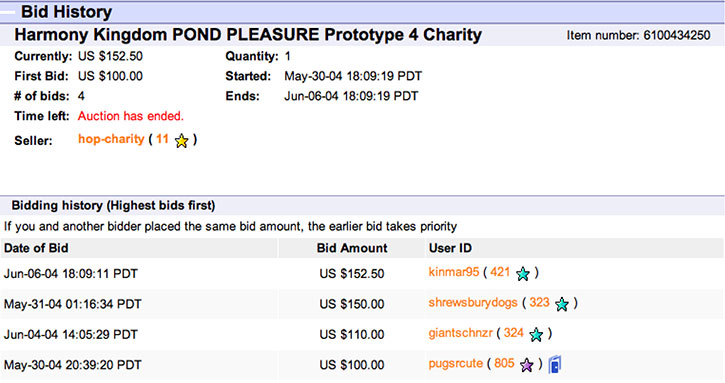 eBay Auction was a charity auction sponsored by the HK House of Peers to benefit NAMI.
NAMI is the nation's leading grassroots organization solely dedicated to improving the lives of persons with severe mental illnesses (major depression, bipolar disorder, schizophrenia, obsessive-compulsive disorder, and anxiety disorders). Their efforts focus on support to persons with serious mental illnesses and to their families. They advocate non-discriminatory and equitable federal and state policies; increased research funding into the causes, symptoms, and treatments for mental illness; and education to eliminate the pervasive stigma toward severe mental illness. Through advocacy and education, NAMI translates biomedical research advances into effective treatment and services for individuals with serious mental illness.

Thank You!

'kinmar95'