No where else will collectors have an opportunity to acquire personal items, offered by HK notables, than from the Live Charity Auction.
Leanna Barron was the live auctioneer at the HK Reunion's Live Charity Auction in Rosemont, Illinois in conjunction with the International Collectible Exposition. Eight items were donated by Harmony Ball Company staff members. Included was a Puffin Pin, with "Pete" rather than "Rosemont" on the face, from the first Lake Michigan HK boat tour in 1997. Martin Perry contributed a well used pipe from his days as a shepherd plus some old photos. Proceeds from the event benefit NAMI (National Alliance for the Mentally Ill), where $2,770 was raised. Those happy winners are shown below: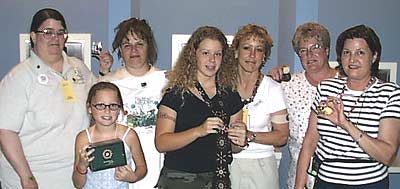 Mary Chamberlain, Erikka Zowlenik, Susan Gruhn,
Anita Anderson, ?, Beth Reno, and Susan Shemberger
PRIZE
WINNER
DONOR
AMOUNT
Royal Watch Birthday Bash T-Shirt from Rosemont 2000 with "original" art
Susan Gruhn
Noel Wiggins
$55
At The Hop – Prototype Candle
Sylvia Richards
Anna Greashaber
$60
Tie Prototype
Anita Anderson
Ryan Bunce
$70
Martin Perry's Pipe and photos
Beth Reno
Martin Perry
$525
Day of the Dead figurine
Mary Chamberlain
Lisa Yashon
$125
Horny Toad figurine
Beth Reno
Adam Binder
$500
Puffin Pin with "Pete"
Susan Shemberger
Peter Calvesbert
$1,400
Boyds Bear
Erikka Zwolenik
Adam Binder
$35
$2,770
The unique 'Day of the Dead' figurine is from Lisa Yashon's collection
of memorabilia acquired during a Mexican visit with Noel Wiggins.