The HK House of Peers and Harmony Kingdom offered you the opportunity to own these two solid body prototypes - Beau Brummel and Orange Crush. Both were carved by Harmony Kingdom Master Carver Peter Calvesbert and produced at England's Wimberley Mills.
At the same time, you assist Rescue a Golden of Arizona, an organization dedicated to rescuing Golden Retrievers in need and finding new, permanent homes for them, through this charity auction on eBay.

Beau Brummel is a handsome poodle prototype, named for a famous dandy and trend-setter from England's Regency period. He has seized control of the clippers, as if to dare anyone to try and change his hair-do—it's perfect as it is!

This piece is solid and has all the markings of Version 1, including the secret code around the base. The bottom is marked "Poodle Prototype V1."
Orange Crush is a darling tiger cub prototype. It was originally intended for release as part of the Harmony Kingdom NetsUKe series, but was later converted to a box and released as a Mini Treasure Jest.

The piece is solid and the bottom is marked "Tiger Netsuke #001."
This auction was held on


and ended January 14, 2001
raising $610.00 for Rescue a Golden of Arizona


Harmony Kingdom Prototype Charity Auction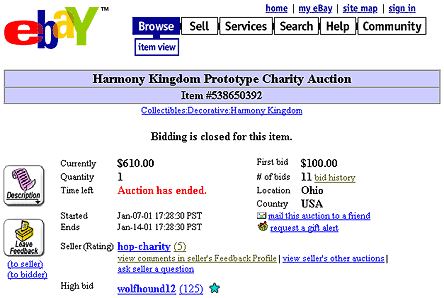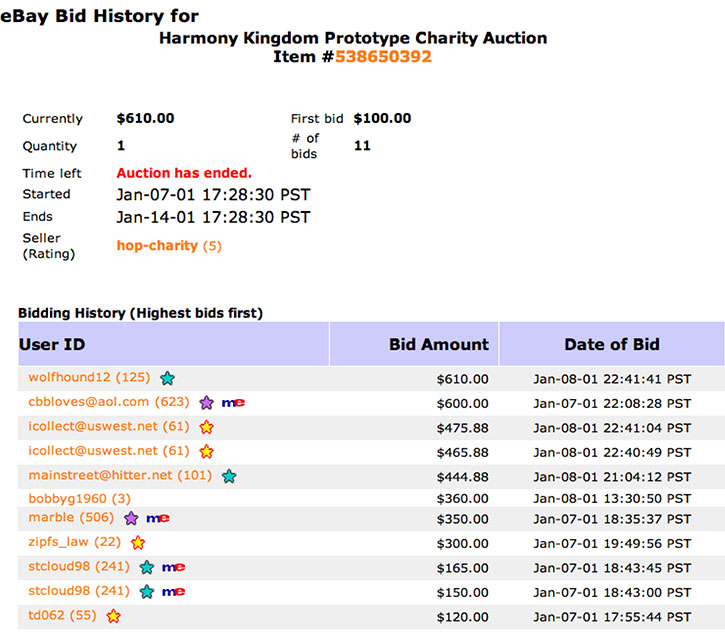 About Rescue a Golden of Arizona: Goldens are given up by their owners for a variety of reasons. Many of these wonderful dogs have medical conditions that are treatable, although sometimes expensive. Rescue a Golden of Arizona, never turns a Golden Retriever away, unless it has exhibited aggressive tendencies. They are placed in a foster home, treated medically, and then adopted into a qualified, loving, and permanent home. The organization also helps educate people about the breed, about responsible dog ownership, and about rescue efforts.
Rescue a Golden of Arizona is a 501(c)(3) nonprofit, charitable organization run by a board of directors. Every penny received from contributions goes directly back into the organization to pay veterinary and medicine bills. For more information, see their website at [www.golden-retriever.org].

Auction Details:
This was a no reserve auction.
Two separate forms of payment were required. The winning bidder must send the HK House of Peers a money order or bank draft in U.S. dollars, payable to Rescue a Golden of Arizona, for the amount of the winning bid. The buyer pays shipping and insurance with a second money order or bank draft, payable to HK House of Peers. The cost of shipping and insurance will be based on the location of the winning bidder. Personal checks cannot be accepted.
The item was shipped to the winning bidder within two business days of receipt of payments. The RAGofAZ payment was forwarded to them within two business days of receipt, with a letter from the HK House of Peers acknowledging the contribution.
This was a charity auction sponsored by the HK House of Peers for Rescue a Golden of Arizona. Donations to Rescue a Golden of Arizona, as a 501(c)(3) nonprofit organization, may be U.S. tax deductible for the amount donated that is greater than the fair market value of the pieces. For answers to specific questions, refer to Internal Revenue Service Publication 526, available on the IRS website, or see your personal tax expert.

Thank You!

'wolfhound12'