During the Game Show at Clair de Lune 2000, Harmony Kingdom generously made available 5 Back Scratch box figurines. The original five contestants made a great effort to win the rare cat, but as the questions became difficult the contestants never made it to Question #10. In an effort to raise funds for NAMI (National Alliance for the Mentally Ill), Harmony Kingdom allowed five additional contestants from the audience to answer Question #10. These five new contestants, all with an in depth knowledge of Harmony Kingdom, were able to answer the hardest question, thus winning a Back Scratch. These 5 Back Scratch were given to HOP to raise funds for NAMI.
The first Back Scratch was raffled during Clair de Lune 2000. Participants were allowed one entry at $20 with the drawing held during the banquet on June 28.
Dorene 'Dodi' Cevera was the lucky winner of Back Scratch, with the winning ticket drawn by Martin Perry. The raffle raised $4,200 for NAMI.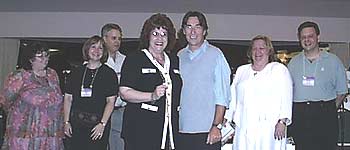 Back Scratch Winner 'Dodi' Cevera with Martin Perry
and the HOP Officers

NAMI is the nation's leading grassroots organization solely dedicated to improving the lives of persons with severe mental illnesses (major depression, bipolar disorder, schizophrenia, obsessive-compulsive disorder, and anxiety disorders). Their efforts focus on support to persons with serious mental illnesses and to their families. They advocate non-discriminatory and equitable federal and state policies; increased research funding into the causes, symptoms, and treatments for mental illness; and education to eliminate the pervasive stigma toward severe mental illness. Through advocacy and education, NAMI translates biomedical research advances into effective treatment and services for individuals with serious mental illness.