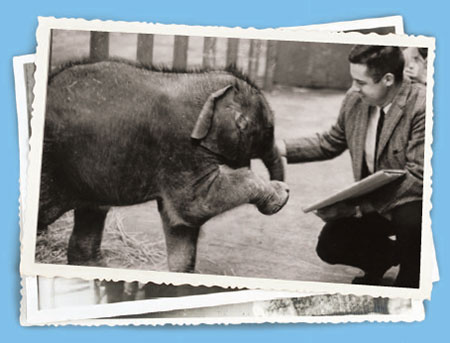 The birth of Packy in 1962—the first elephant born in the Western Hemisphere in 44 years—garnered worldwide attention and put the Oregon Zoo on the international map for elephant breeding.
Since the birth of Packy in 1962, generations of families have been watching with wonder as the zoo's elephant herd grows and thrives. The zoo knows that this experience fosters an emotional connection—one that inspires people to care and to take action on behalf of wildlife.
During the last 50 years, the Portland community has celebrated 28 elephant births, making this zoo—their zoo—a pioneer in elephant breeding. The Oregon Zoo has also been home to groundbreaking elephant research, resulting in discoveries that have profoundly improved the ability to understand and protect these endangered animals. Along the way, they are grateful that this community has always supported their efforts to ensure that the herd benefits from the highest possible standards of care and management.
Now, they are asking for help again as they embark on creating a visionary new habitat for these magnificent creatures.
Today, Harmony Northwest, the first independent collectors club for Harmony Kingdom, donated $5,243 to the Oregon Zoo Foundation to help in creating Elephant Lands. Elephant Lands will be one of the most natural, moving, and spectacular elephant experiences in the world. Construction has begun and completion is scheduled for 2015.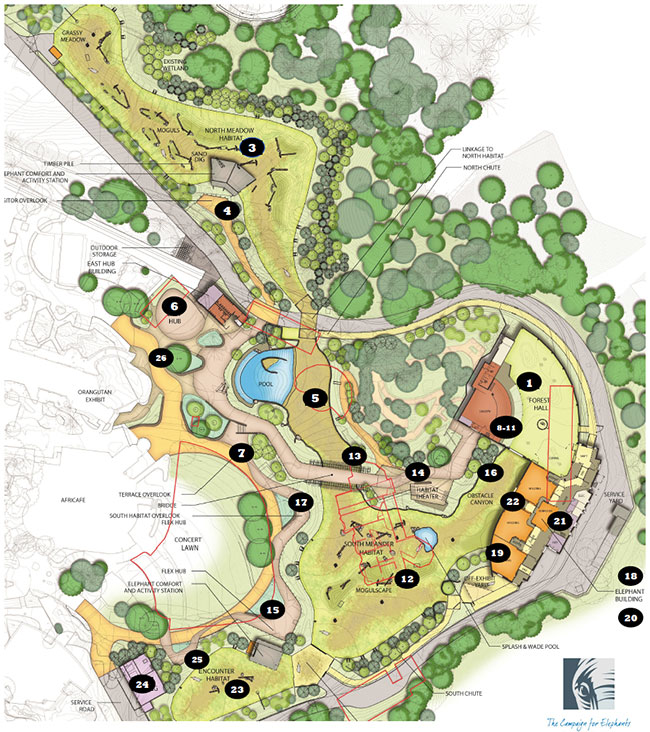 FOREST HALL BUILDING
CENTER FOR ELEPHANT DISCOVERY
NORTH HABITAT
NORTH HABITAT VISITIOR EXPERIENCE
RAVINE HABITAT AND POOL
EAST PLAZA
CONCERT LAWN TERRACE
FOREST HALL GALLERY
FOREST HALL ACTIVITY TREE
KEEPER CATWALK
FOREST HALL GALLERY SEATING
SOUTH HABITAT
DISCOVERY BRIDGE
ELEPHANT OVERLOOK
ELEPHANT LIVING AND LEARNING VIEWING AREA
OBSTACLE CANYON
SOUTH HABITAT VISITOR EXPERIENCE
ELEPHANT BARN
ELEPHANT CARE FACILITY
ELEPHANT BARN GREEN ROOF
ELEPHANT BARN SUNROOM
INTERIOR SHELTER
ENCOUNTER HABITAT
SUPPORT SYSTEM BUILDING
ENCOUNTER HABITAT VIEWING
THE HERD PICNIC AREA

Our donation will allow
HARMONY NORTHWEST
to be inscribed into the glass railing at Forest Hall, an innovative new viewing gallery where you can experience elephants like never before.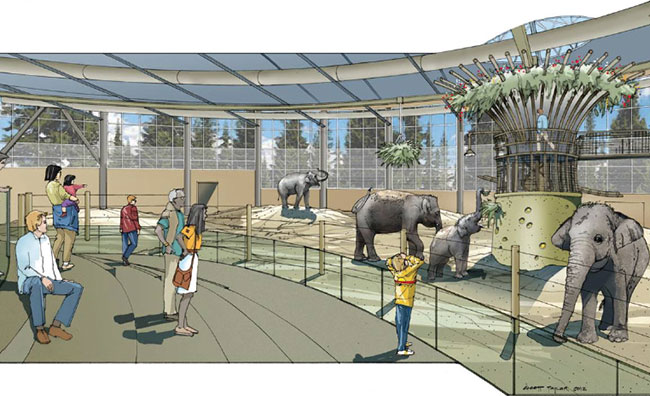 OREGON ZOO – Elephant Lands – FOREST HALL